No Comments
Rosemont High Baseball Collection 1 by Britney M. Mills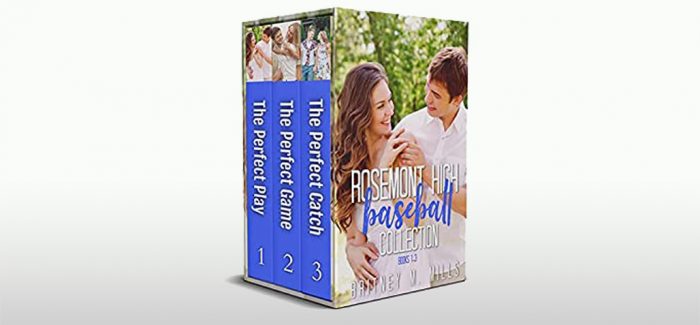 Realtime Price: £7.25
Three Swoony YA Sports Romances in one boxset.
The Perfect Play
After he broke her heart, he didn't think he'd get a second chance.
Jake White has been coasting along, living only for baseball and the time he can escape his home life to be with friends. But as he starts hanging out with Penny, his former best friend from next door, he realizes what he's missed in the three years since they stopped talking. And when they kiss after a party, he starts to see a whole new future for his life.
Penny Davis has her sights set on a softball scholarship, hoping to get out of Rosemont as soon as she graduates. Straight A's, working at the local diner, and practicing her softball skills are the routine. Until she bumps into Jake White in the hall. When he starts paying more attention to her again, after nearly three years of next-door radio silence, she allows herself to hope that what they once had might be there again. But falling in love is easier said than done.
When the heartache from the past comes to the surface, will they stand a chance?
The Perfect Game
He may be an ace on the mound but when it comes to talking to girls, he can barely get out two words. Until she comes along.
Ben Clark is a shy overachiever, not something anyone expects from Rosemont's star pitcher. He's got an internship at a physical therapy clinic and it's the one thing besides baseball that he can talk about nonstop. When Serena comes in during his shift for therapy, he's surprised at how easy it is to talk to her. Even though they come from different family life, they have a lot more in common than he expected, and he finds himself falling for the volleyball player.
Serena Gates lives to play volleyball, something her mother wishes she would give up. She'll give up boys before she'd stop playing that is until she gets injured in a match. Now she has to spend her summer doing therapy and hoping she's recovered by the time her junior year rolls around. But with Ben as her assistant trainer, she finds herself falling for the athlete, even if her dad wishes he was a football player.
But when their fears are tested, will their relationship survive the summer? Or will they just count it as a fling?
The Perfect Catch
He can catch every pitch thrown to him, but can he catch her heart?
Dax Stratton lives for baseball. But when he gets into a fight with the school jerk, the principal decides it's time for a different kind of punishment. He's assigned to the senior committee with Kate Adams, Student Body President, who also happens to be the girl he's been crushing on.
Kate Adams has life mapped out, well, her mom does. Her schedule is filled with service activities and schoolwork. It's not until Dax joins the committee that she begins to see a world beyond high school—much to her mother's disapproval—and the kaleidoscope that it of opportunities it holds.
Can they overcome prejudice and social class to create a teen relationship?
Genre: Romantic Suspense, Mystery, Adventure

Rosemont High Baseball Collection 1: Books 1-3 by Britney M. Mills
Amazon UK