No Comments
The 'Dear Roz' Romantic Comedy Serial: All 4 Novellas in this Humorous Contemporary Romance Boxset (The 'Dear Roz' Series Book 1) by Alex Bahscot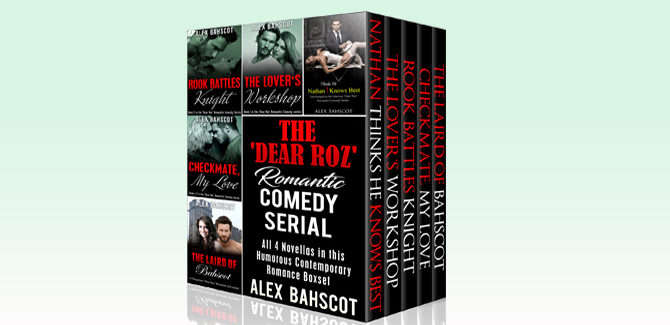 Realtime Price: £2.16

The Dear Roz Romantic Comedy Serial
Book 1 The Lover's Workshop
Rozlyn Rook is a successful, relationship columnist who specializes in helping women seduce and land the men of their dreams. She holds two day, intensive matchmaking classes that always fill up and leave the students more confident and in charge of their love lives. The classes are rewarding, both for the participants and her, until Roz learns that her newest student is none other than Sue Peoples, a sarcastic, vicious magazine critic who just happens to be the dumped ex of Roz's current boyfriend.
Enter Nathan Knight, writer of an advice column for men about women for a rival newspaper. He has read her provocative words, finding them ignorant and arrogant, much like he assumes she would be. When Nathan's friend and boss conspires to have them seated next to each other for his own amusement at a charity event, the fuse gets lit. Roz already has her hands full with a vicious magazine critic who set her career-destroying sights on her. The last thing she needs in her life right now is Nathan bloody Knight.
Roz quickly finds herself one down in the one-upmanship game that Nathan started. That is totally unacceptable to the Queen of the advice column. She is now battling on two fronts and in danger of losing on both. How can she thwart a critic hell-bent on her destruction while dealing with a vile, irritating, conceited, incredibly annoying, mildly attractive English upstart at the same time? His actions have already cost her the boyfriend she unwittingly stole from Sue. Roz is two down to Nathan and blazing mad. The gloves are well and truly off and she will have her revenge. Or will she?
Book 2 Rook Battles Knight
Roz decides to confront Nathan at his place of work. Bad idea. Her usual razor sharp tongue and wit lets her down, but awakens a sleeping desire in Nathan to entertain himself at Rozlyn's expense. His lesbian assistant, Betty, warns her boss about playing with fire, but Nathan is having way too much fun to heed her advice. They are two diametrically opposed forces, Roz will never admit defeat, and Nathan has never encountered it. Undeniable chemistry clashes with unyielding wills. Nathan is using Roz's successful seminar model as the lattice work for his own seminar. Roz's disdain for Nathan's tactics masks an attraction neither one will readily admit, but one their close assistants, Maxine and Betty, recognize and exploit. When the two get together and concoct a plan to put the heterosexual pair through a crazy 'Lesbian List of Love' test, all hell breaks loose.
Book 3 Checkmate, My Love
Nathan is oblivious to the part he played in Rozlyn's latest mood swings and seeks Betty's help in understanding depression. Betty is only too happy to verbally slap Nathan around. How can a relationship expert be so dumb? All women will recognize the symptoms and the cure that can't be administered for reasons only women will understand. Betty's advice is priceless, but it is up to Nathan's bosses wife to heal the wound and answer the question about what makes men cry. Armed with this knowledge, Roz has Nathan convinced that Roz wanting him to admit to weeping on occasion is some kind of fetish. One that he in no way adheres to. Things are for the most part back on an even keel… NOT!
Book 4 The Laird of Bahscot
Gordon Wilkinson's fiery Colombian wife is convinced he is weak, the worst possible trait a man could have. Add to Gordon's problems the fact that a ruthless Cartel Capo has his sights set on Gordon's wife and plans to make her an early widow. Gordon turns to Roz and Nathan to help woo his wife back. Their plan is simple but crazy. Evade the assassin sent to make Maria a widow, travel to Colombia, infiltrate the cartel's compound and persuade Maria that Gordon is not the weak man she believes him to be. Then escape undetected under the nose of the ruthless cartel capo. What could possibly go wrong? Everything.
Genre: Romantic Comedy


Amazon UK