No Comments
Quarterback's Surprise Baby (Bad Boy Ballers Book 2) by Imani King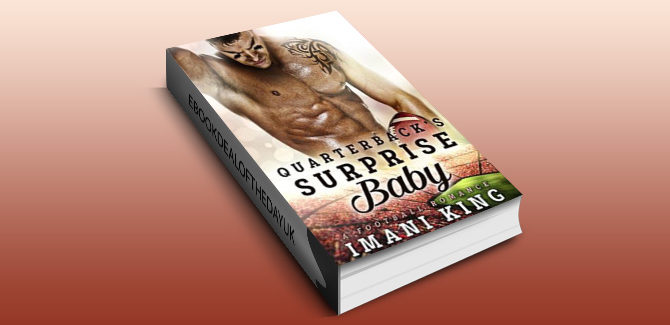 Realtime Price: £2.31

One crazy night out to celebrate making partner at the law firm. One gorgeous bad boy. What could go wrong?
Odell
It's just my luck that the man I picked up–my first and only one-night-stand– would be the famous jock who I am defending.
Tattooed, sexy, and all wrong for a career girl like me, Gryphon James is an obstacle I don't need.
And as much as I'm trying to deny the feelings rising in my heart, it's just as impossible to ignore the growing bump in my belly.
Either could change everything.
Griff
I was just looking for someone to f*ck at the bar that night. Hell, so was she. After the last time I got my heart stomped on by a beautiful woman, I vowed I'd never fall in love again.
Besides, Coach insists I focus on football–no more distractions, no more complications.
But when Odell looks at me with her Godiva eyes and her sweet curves press up against my angles, my resolve melts away.
Can a no-good trailer-trash jock and a high-priced lawyer ever last?
The Quarterback's Surprise Baby is a steamy standalone novel with a HEA ending, a satisfying epilogue, and NO CLIFFHANGERS!
Author's Note: 'Quarterback's Surprise Baby' is a full-length (50k) romance novel. For a limited amount of time, this edition also includes the bonus book 'Nicholas' (40k)!
Genre: Sports Romance, Contemporary Romance


Amazon UK
Watch the "Quarterback's Surprise Baby (Bad Boy Ballers Book 2)" by Imani King Book Video Trailer