No Comments
Leah's Seduction (Books 1-4) (Gianni and Leah) by Emily Jane Trent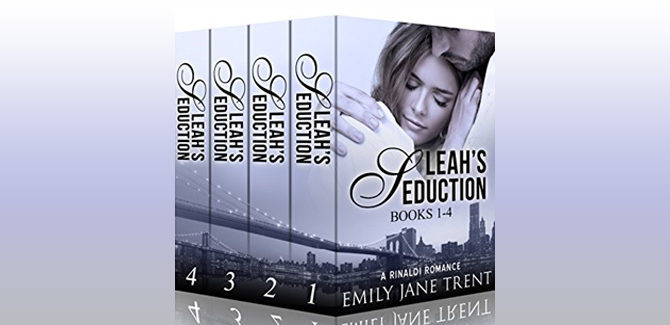 Realtime Price: £0.99

Gianni Rinaldi has dominant sexual tastes! He satisfies Leah's fantasies.
The wealthy hero seduces Leah, and becomes obsessed with releasing the passion inside her. Their encounters plunge the relationship deeper, and both get more than they expect. It's an emotional journey of desire and passion. But will their love survive the demons from the past that threaten to rip them apart?
The attraction was undeniable. Gianni believes Leah might be the author of a woman's diary filled with sexual fantasies, which has accidentally fallen into his hands. Intrigued, he pursues her. But the relationship quickly spirals out of control.
˃˃˃ New Offer: Books 1 thru 4 are now available in a boxed set! But don't be surprised if you get wrapped up in Gianni and Leah's romance and read all 10. This sensual romance series will leave you wanting more!
Book 1
Leah's passion bubbles to the surface when she meets Gianni at a fashion industry event. She is surprised by his interest in her. In this seductive romance series, intimate encounters make it clear that he can satisfy her as no man has before. How much is she willing to give up, in order to be with him?
"The way Leah looked at him had affected him. And not in a way he'd anticipated, allowing just that little bit of control to slip through his fingers."
Book 2
Gianni is deeply affected by Leah. The way she responds to him pushes the limits of Gianni's control, igniting desire he cannot subdue. Can he keep his distance, or will Leah's passion be his undoing?
"The way Gianni led her into acts that had a taste of the forbidden turned her on. And she couldn't have pulled back, even if she had wanted to.
Book 3
Leah takes a risk that will change her life. She thinks her love is enough for both of them, until everything explodes in this possessive alpha male romance. Will Gianni grant her demand?
"Wanting to be with him just might overshadow Leah's life if she wasn't careful. There had to be a limit. She couldn't continue to give all if Gianni wouldn't.
Book 4
Leah is swept up in the power of her love for Gianni. She wants to please her wealthy hero, but there are limits. Leah knows he is holding something back. Can she persuade him to tell? Or will the past be their undoing?
"Gianni says he is greedy, but I am just as greedy as he. I want to hear the words. I long for the day when Gianni tells me that he loves me."
˃˃˃ Series Description:
Gianni Rinaldi was introduced in the sensual romance series of Touched By You. In that billionaire bachelor series of Tanner and Natalie, he was the owner of GR Showroom and showcased Natalie's fashions. He was a source of jealousy for Tanner, the wealthy hero in that seductive romance series. Although his relationship with Natalie was strictly professional in the steamy new adult romance of Touched By You. But he was deeply involved in his own romance, which you can now read about in this Rinaldi Romance, the steamy love stories of "Leah's Seduction."
Genre: billionaire bachelor series, bdsmerotica romance series, possessive alpha male romance
Genre: New Adult, Romance


Amazon UK