No Comments
Free Three Paranormal Romance Kindle Books!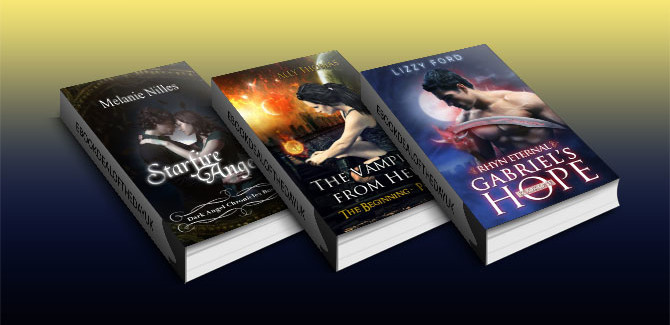 "Starfire Angels (Starfire Angels: Dark Angel Chronicles Book 1) by Melanie Nilles
Genre: Paranormal Romance, YA Fantasy
Sassy Cat has a little brother named Junior. Even though Junior Cat is just a kitten, Sassy wishes he would act good! One day, she gets an idea to act just like Junior, doing all the things that she thinks that her brother would do. Eventually, Sassy learns that she really just needs to have some patience with her sibling and that Junior really just wants to spend time with her. She learns that having a little brother can be fun and she can be a sister that Junior can look up to.
Children will identify with Sassy and how she feels about having to balance having a younger sibling and having a social life with her friend, Tabby. This is a great little story about how an older sister resists at first, but eventually includes her little brother into her activities. Emphasizes lessons in patience, empathy and understanding.
They've been coming here for thousands of years, using Earth as a sanctuary to escape threats from their own kind. Mankind knows them as angels, and one of them left a child upon her death to be raised as a human.
Raea is now a high school senior and her life as a human is about to end. The crystal shard she bears is not a pretty pendant; it's a collective of powerful entities who chose her as their Keeper, a protector of one of the four shards that power a machine capable of destroying whole worlds. Those who desire the Starfire's power have sent an agent to find her, but she's too busy evading a nosy reporter ready to exploit her secret and dating a hot new foreign student to notice. Nevermind learning what she really is.
Only one person on Earth can help her, the last person she ever expected. But he's not from Earth. Life as a human would be so much easier.
"The Vampire from Hell (Part 1) – The Beginning" by Ally Thomas
Genre: Paranormal Fiction, Fantasy
According to Rayea, the oldest daughter of Satan, the origin of vampires started in Hell, and it started with her. Rayea isn't daddy's little girl, even if he is the most powerful fallen angel around. He wants her to take an active role in the family business. But she's not interested in his schemes for world domination. Instead she wants to spend her time shopping on the Internet, rescuing humans from a horrific eternity, and practicing martial arts with her seven foot hellhound. Then one day everything changes.
Here's the first part of the Vampire from Hell series about how it all began. "The Vampire from Hell (Part 2) – A Vampire Among Angels" is included as well.
The Vampire from Hell is a novella series and is being released as installments.
"Gabriel's Hope (#1, Rhyn Eternal)" by Lizzy Ford
Genre: Paranormal Romance
The continuation of the bestselling "Rhyn Trilogy" saga.
Death Finds Love.
Recently appointed as Death, Gabriel's life can't get much worse. His underworld is in shambles, and he's racing demons to collect souls in the human world. To add to his mess, he discovers that his predecessor raised an unwelcome Immortal from the dead, one who threatens the Immortal Council that his friend, the Ancient Rhyn, is trying to hold together. When the underworld shuts Gabriel out, he's convinced he's hit rock bottom. Until he meets her, and he realizes things can get worse. Much worse.
Now in human form, Deidre – Gabriel's predecessor and long-time tormenter – is dying from a brain tumor. Rather than mourn, she decides to enjoy the rest of her short life by checking off every box on her bucket list. Little does she suspect that a weekend getaway to the beach will throw her into the hands of Death himself and overturn everything she knows about her world. Deidre has no idea who she was in her past life, but she must learn fast, or she'll never understand why the Immortals, demons and Death alike are after her. The secret is buried in her head, and the only way to uncover it will kill her.
To survive, she must reach the wounded man behind the mask of Death and show him that the world is filled with more than tragedy and pain.