No Comments
The Cavelli Angel Saga by Annalisa Russo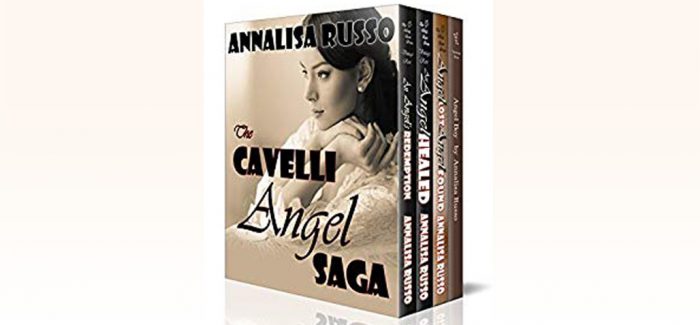 Realtime Price: £4.90
Provenance: The family saga begins…
An exclusive prequel to the Cavelli Legacy
An Angel's Redemption
Michael Vincente Cavelli would have been happy as a farmer. Instead, he has a lot on his plate. For starters, he's the only rational Cavelli male, the one who inherited the mantle of patriarch at a young age, not only running the family's successful dairy, but overseeing the lives of his large and unruly family. If that isn't enough, someone is out to cripple his business. So when a redheaded siren appears at his door the morning of his sister's wedding, he wonders about the deity's sense of humor.
As one of the few female doctors in Chicago in 1925, Faith Truitt has something to prove, and she can't afford to make a mistake that would destroy her career, like getting married. Everything was looking jake until Michael Cavelli opens his door that fateful morning and pulls her into the crosshairs of lies and treachery reaching back a generation—and into the whirlwind of a desire she cannot deny.
An Angel Healed
Archaeologist Raphael Cavelli wonders why he isn't in some watering hole in Peru drinking a lukewarm cerveza next to a bosomy blonde. Instead, he's one step ahead of the law for stealing the archaeological find of the century, where he bumps, literally, into the reason he left seven years ago—the girl he traveled halfway around the globe to forget. Hope Macklin, sob sister for The Spectator, is on the lam so she can't afford to draw attention to herself, even for a carelessly handsome man. Fate throws Rafe and Hope together again just in time to square off with the faceless opponent doggedly threatening them. Will they risk everything for what matters most?
Angel Lost, Angel Found
Gabriel Cavelli makes a deathbed promise to his friend, Big Mike O'Malley, to look out for his young, educated-out-east daughter. Little Charity O'Malley turns out to be a beautiful and feisty twenty-three-year-old about to support herself by becoming a "whisper sister" for her father's speakeasy. Gabe must decide whether to honor his promise or strangle her. Charity has secrets, and Gabe doesn't like surprises. He's not the marrying kind and should be running for cover, but her mean streak intrigues him. His brothers tell him it must be like looking in the mirror. When a crooked Prohibition Man comes into the picture, Charity needs help. Unfortunately, Gabe never could resist a damsel in distress, especially a pretty one. But this one could end up getting him killed. Still, a promise is a promise…
Angel Boy
Private Investigator, Meg Cavelli, wonders why her traitorous family has trotted out the fatted calf for Seth Truitt, the boy who left her flat eight years ago. Now he's back, sexier than she remembers, and needs her help. How can Meg accept Seth's no-strings-attached-deal in return for bringing a deranged predator to justice when their steamy attraction to each other might very well get in the way?
Army Air Corps pilot, Seth Truitt needs help to erase his dark-stained past, but soon realizes helping Meg Cavelli solve a dogged criminal case in return for salvaging his military career might be more dangerous than flying P-26 fighters for USAAC. But since Seth has no intention of letting Meg go again, he'll stop at nothing to keep her safe from the twisted, unnatural threat they dubbed "the monster" as kids.
As the mystery unfolds, joining their minds and hearts might be the only way to stay alive.
Genre: Historical Romance

The Cavelli Angel Saga: The Complete Boxed Set by Annalisa Russo
Amazon UK