No Comments
In Their Shoes: The Trilogy (The Teacher, The Actor & The Model): The Hilarious, Uproarious and Outrageous British Satire Series! by Andrew Mackay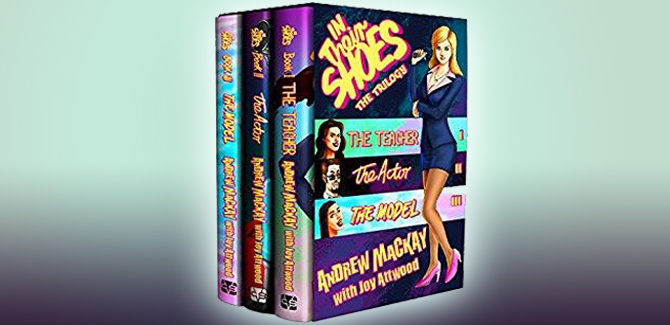 Realtime Price: £4.99

Meet newbie journalist Joy Attwood. She's fresh-faced, eagle-eyed, bushy-tailed… and totally out of her depth!
Rammed-solid with amazing illustrations by Kreacher, In Their Shoes: The Trilogy is the first three best selling books in the groundbreaking series from Chrome Valley Books and British author Andrew Mackay. Tag along with journalist Joy Attwood, as she follows a different profession for the day to find out what their job is really like…
The Teacher (Book I) – Cheating, lying, cutting class… and that's just the staff! Joy Attwood, fresh from redundancy at her safe manager job, decides to become a journalist. This first assignment has her follow stressed-out and hungover high school teacher Rachel Weir. The kids are unruly. Rachel's colleagues are either boring or on the brink of self-destruct. Can Joy successfully teach a class of her own? The Teacher is the best-selling, groundbreaking British satire that kicks off the In Their Shoes series…
The Actor (Book II) – After the success of The Teacher (well, apart from what happened to Rachel, anyway) our intrepid and hungry journalist Joy Attwood follows British actor Pat Cake for the day. Together they'll attend auditions, voice-overs, film sets, theatre shows and incur the wrath of the salacious media. Joy will be the centre of attention, left to fend for herself, and right up s#!t creek without a paddle!
The Model (Book III) – The universe made a mistake when it made supermodel Oksana Volkov. The media insists she's the most beautiful woman in the world. She has taken the fashion world by storm. Her time is nearly up, though – she's getting older and younger 'meat' is lining up to take her place. Joy Attwood joins her for the day and finds that she, too, is not immune to the allure of glamour and vast sums of money. Will Joy break her own moral code of values and decency to get the story she really wants? The Model is an unflinching satirical masterpiece with an unforgettable and shocking conclusion.
If you love British humor, satire and suspense (think John Cleese, Helen Fielding, Tom Sharpe, Kurt Vonnegut and Imogen Edwards-Jones) then pick up In Their Shoes – The Trilogy this very instant!
Genre: Humour & Satire, Thriller


Amazon UK