No Comments
Partho, the Unconventional Investigator: The mystery of the missing bags (Partho, Suspense, Thriller, Archaeology, Crime fiction, murder, dark, conspiracy) by Rajib Mukherjee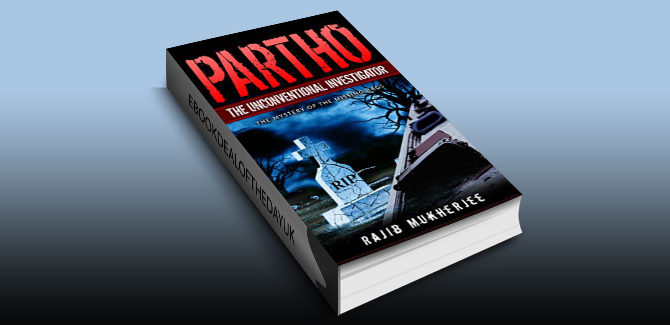 Realtime Price: £2.26

With his vast array of invented gadgets and a quirky personality, Partho is an interesting friend to have. Dev never expected that reading a newspaper ad for exchanged baggage could lead to him following Partho on his investigation of the missing bags.
Things quickly get out of control when a murder takes place, and an old friend, Tom, is found to be stuck in the midst of it. The compelling mystery leads to a UAE-based archeologist, Subhajeet, who has been in a coma after a sudden cardiac arrest on a secret mission, leaving behind his memoirs and a will with many unanswered questions.
The living will of the old archaeologist is taking effect in less than ten days, before which Partho and his team are tasked with solving the mystery so the man can at least die in peace. The quest for truth leads them to a three-day expedition to Abu Dhabi.
And then beings the nightmare! They become accused of a gruesome murder and must go head to head with a notorious underworld gang. Can Partho use his unconventional methods to save their lives and unravel the enigmatic mystery? Find out in this riveting suspense thriller.
Genre: Mystery, Suspense, Thriller


Amazon UK