No Comments
Wisdom for My Son and Daughter: A Man Takes a Philosophical Reflection on Life to Help, Guide, and Inspire Society and His Children by Jonny Oates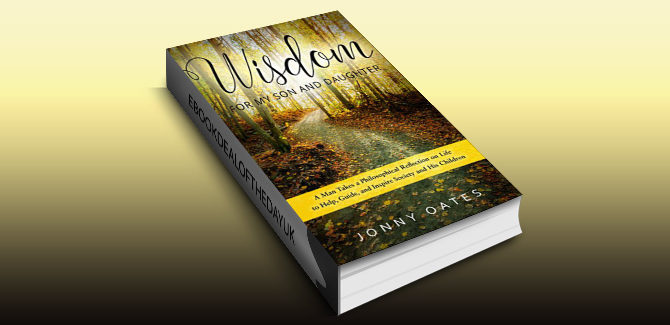 Realtime Price: £4.99

(Self-development, self-improvement)
Life: what is it all about? Why do we often approach it the wrong way? Why are there so many pitfalls we have to be careful of?
We all want the best for our offspring as they grow into adulthood. We want them to have WISDOM, to learn from our mistakes, to be aware of the wonderful and not-so-wonderful aspects of the world. How can we enhance our life and theirs using positive psychology, knowledge and awareness?
The world is rapidly changing; it has many problems. Wouldn't life be easier if we were given a manual on the human condition, an operating guide to human emotions including some sound, thought-out advice?
If I were to die tomorrow, what would I leave to help and guide others? Could I reflect on my life and that of others in order to help my children and society?
These are some of the questions the author had in mind in developing Wisdom for My Son and Daughter. The author touches on many subjects of immense interest and sometimes controversy. Psychology, philosophy, science, politics and religion are all looked at in relation to life, with pragmatic reasoning.
This could be the book that gives you the life perspective you need, or a great gift for someone that is struggling in their life.
A must purchase for your self-help collection this year!
This manual for life includes discussion on:
*The importance of health, both mental and physical
*Using positive psychology to improve relationships
*The dangers of addiction to drugs and alcohol
*The insidious danger of high stress and the importance of preventing it
*Sleep: the human recharging system
*Common psychological afflictions including depression and anxiety
*Education: the key to life
*Life: Finding passion and motivation
*Finding purpose: the cornerstone of a good life
*A healthy perspective on money and finances
*Parenting: its challenges and responsibility
*Developing healthy self-esteem
*A philosophical look at religion and spirituality
*Common sense, based on reason and logic
*The problems in the world for the new generation ahead.
Those who might really enjoy and benefit from Wisdom for My Son and Daughter include:
*Teenagers for whom life is an intoxicating mix of excitement and fear
*Young adults and many older adults trying to live a good life
*Anyone looking for guidance, and perhaps validation, from someone who has faced the same struggles.
Anyone in the midst of a life struggle, looking for another perspective on life.
Genre: Inspirational & Motivational, Selfhelp


Amazon UK