No Comments
Information Cloud (Tales of Cinnamon City Book 1) by Peter James West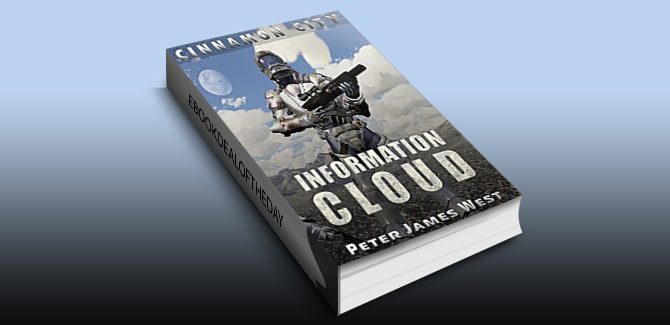 Realtime Pricing: Amzn: £0.00 B&N: Free

Tales of Cinnamon City is a Science fiction and fantasy series set in the rich, deep world of Megarothia. Information Cloud is the first novel in the series, mixing elements of military science fiction, military fantasy, and hi-tech action.
On a world called Megarothia, a world governed by powerful war lords, the people grow restless in a thriving metropolis known as Cinnamon City. They live their lives under the protection of the Dome Shield, safe from the ravaged world outside. History fades when blood runs dry. The Iridium Wars have long since been forgotten, but the world has not forgotten them.
Rachel works for Central Command, the governing body of Cinnamon City. She helps keep order on the streets when she's not fighting the Kamari. The insurgents have become increasingly bold in the last few months, launching ever more violent attacks on the outlying stations. Kamari agents have even been seen in the city, though nobody knows what they hope to achieve.
There's something different about Rachel. Rumours of her strange abilities are spreading throughout the towers. She tries to blend in with the other soldiers but the more she tries to go unnoticed the more she stands out.
When Commander Nick Chambers receives a tip off about the possible location of a new Kamari HQ, Rachel joins a task force to investigate, but not everything goes to plan. Their forces are ambushed and the battle quickly spirals out of control.
A dark power is rising. Lord Hades must face his darkest hour. Will Rachel learn to face the unpleasant truth about herself before it's too late?
Trouble brews in the city as the battle of Havers Compound intensifies. Backed into a corner, Rachel finds her choices disappearing one by one.
Genre: Scifi & Fantasy

Information Cloud (Tales of Cinnamon City Book 1) by Peter James West
Amazon UK
B & N