No Comments
Orphan Moon (The Orphan Moon Trilogy Book 1) by T. K. Lukas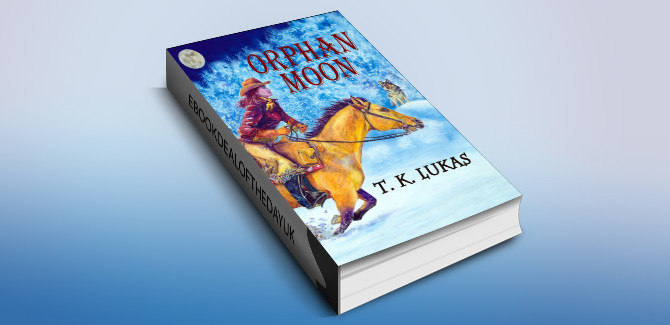 Realtime Price: £3.08

1860 – Palo Pinto, Texas: Under the spectacular glow of a Comanche moon, a family is slaughtered, their homestead torched.
Nineteen-year-old Barleigh Flanders survives the terrifying raid. Fiercely determined to rebuild, she seizes an opportunity meant for another. It's a foolhardy, reckless scheme. Desperate, near penniless, it's her only hope.
Her grueling physical journey stretches from Texas, to Missouri, and into the rugged Utah Territory. However, it's her emotional journey that takes her to places of uncharted darkness, discovery, and redemption.
In Hughes Levesque, Barleigh gains an unsought ally with dark secrets of his own. A hired gun, it becomes his personal mission to keep Barleigh safe. Doing so may cost him his life, his job, and his heart, none of which he's keen to lose.
Orphan Moon is a heart-wrenching saga of family love, loss, and betrayal. Both a gripping adventure and a timeless love story, it gallops across the bleeding edge of the western frontier.
Genre: Historical Romance


Amazon UK