No Comments
Free YA, Paranormal & Horror Kindle books this Saturday!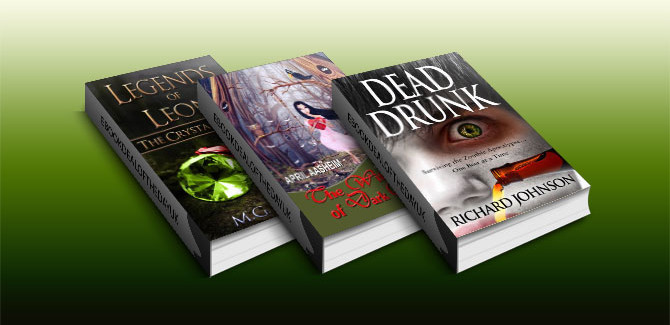 Free! "Legends of Leone: The Crystal Ordeal" by M.G. Dekle
Genre: Young Adult, Fantasy, Adventure
At a young age, Leone Verrat learned that her ability to cast simple magical enchantments was limited by a peculiar handicap. Unlike other sorcerers, her spells would not permanently consume the components necessary for magic, resulting in much weaker and shorter effects but returning the ingredients unscathed. Even though she earned barely passable grades in order to graduate from Blueroot Academy, a school specializing in magical studies, an unknown benefactor still saw fit to recommend her for Morgan's Ordeal, a test necessary for any respectable career.
She is soon inextricably linked to her theatrical Ordeal partner, Falchion, as they must brave the dangers of the test together. They both quickly discover that the Ordeal is the least of their concerns when they find themselves in the middle of an ancient power struggle.
The Crystal Ordeal follows Leone from her graduation day through a catastrophic magical mishap and its immediate consequences.
Free! "Dead Drunk: Surviving the Zombie Apocalypse… One Beer at a Time" by Richard Johnson
Genre: Horror
Charlie Campbell was your average, balding, thirty-year-old alcoholic with a dead-end job and a penchant for shambling through life one mistake after another. However, none of that mattered following the sudden arrival of a mysterious sickness that brought with it infected mobs of zombie-like creatures thirsting for the flesh of the living.
Trapped in a Chicago apartment the morning after a raucous bachelor party, Charlie and his old fraternity buddies must battle for survival against the cannibalistic horde, a military invasion and their own rampant stupidity.
With supplies, common sense and brain cells dwindling by the hour, the motley crew — including a racist cop, a Sri Lankan used car salesman, a stoner landlord and a pet raccoon — must pull out all the stops to avoid joining the ranks of the dead.
If you like zombies, action and humor, crack a beer, pull up a barstool, and prepare for one wild ride.
Free! "The Witches of Dark Root" by April Aasheim
Genre: Paranormal, Fantasy
Deep in the forests of Central Oregon is a town called Dark Root, a place shrouded in secrets, mystery, and witchcraft. But for Maggie Maddock, Dark Root is also a prison, a place where she is forced to spend her days working in her mother's magick shop, forfeiting any dreams of her own. So when a mysterious stranger suddenly appears and offers to take her away from it all, Maggie jumps at the chance.
Now, seven years later, a strange phone call sends Maggie home where she is unprepared for what awaits her: a town that's lost its magic, a mother with an unexplained illness, a house buried in secrets, and a renewed sibling rivalry.
Will Maggie run again, or will she embrace her witchy roots to save all that she loves?
Part Practical Magic, part Divine Secrets of the Ya-Ya Sisterhood, The Witches of Dark Root is a tale that seamlessly weaves the normal with the mystical, the mundane with the fantastic. Zipping in and out of time from Maggie's childhood as an apprentice witch to current day, where Maggie struggles with her increasing powers, as well as family obligations, The Witches of Dark Root is a book rich in both fantasy and heart which will leave readers believing in magic.