No Comments
Free to Download eBooks!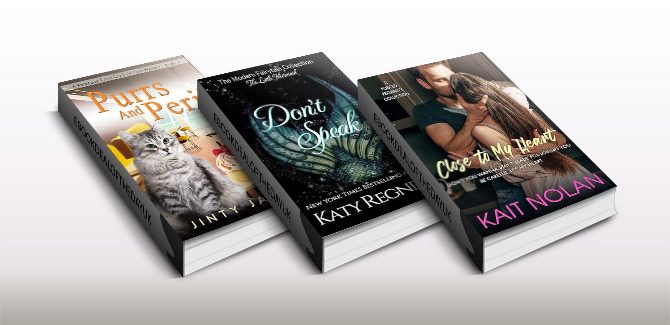 Realtime Price: FREE
There's nothing like forced proximity to make passions ignite! Lose yourself in this trio of full-length small-town contemporary romances.
DON'T YOU WANNA STAY
After accidentally buying an historic fixer upper in an online auction, publicist Deanna partners with YouTube famous DIYer Wyatt. As they battle home improvement hell and rising attraction, can they keep from giving the viewers more of a show than they ever intended?
MADE FOR LOVING YOU
When Paisley becomes the target of malicious harassment, the police have no suspects, no leads, no way to make her feel safe. As her stalker escalates, she turns to the one guy she knows can protect her. Ty's determined to put a stop to the harassment, even if it means moving in with the woman who's so much more than the girl he used to love. He just has to remember to guard his own heart in the process.
BE CAREFUL, IT'S MY HEART
The historic Madrigal theater, in the heart of downtown Wishful, is about to close its doors forever. A last ditch fund-raising effort, a production of White Christmas, is probably the only thing that could bring Tyler Edison back to the stage after all these years. Little does she know that the leading man who broke her heart just blew back into town. Auditions start at six o'clock.
Genre: Contemporary Romance

Close To My Heart: A Forced Proximity Collection by Kait Nolan
Amazon UK
Realtime Price: FREE
A cat café Murder Who is the killer? Lauren Crenshaw and her Norwegian Forest Cat Annie run their own certified cat café in the picturesque small town of Gold Leaf Valley, Northern California. Lauren's fun cousin Zoe helps out as well.
Lauren, Annie, and Zoe are shocked when one of their favorite customers is poisoned. Steve came into the café nearly every day – but who wanted him dead?
The trio find themselves suspecting their customers – even elderly Mrs. Finch, whom Lauren thinks of as a substitute grandmother, doesn't escape their scrutiny.
The new (and attractive!) police detective warns them off the case. But Annie, the Norwegian Forest Cat, seems to have a nose for sniffing out trouble.
Can Lauren, Annie, and Zoe catch the killer before the killer catches them?
This is a humorous, clean, cat cozy mystery with female amateur sleuths – and a gorgeous Norwegian Forest Cat!
You may also enjoy:
Meow Means Murder – A Norwegian Forest Cat Cafe Cozy Mystery – Book 2 Whiskers and Warrants – A Norwegian Forest Cat Cafe Cozy Mystery – Book 3
Genre: Cozy Mystery

Purrs and Peril by Jinty James
Amazon UK
Realtime Price: £6.99
A fisherman's daughter.
The governor's son.
Two very different worlds.
In this modern retelling of The Little Mermaid, a fisherman's daughter from an Outer Banks island untouched by time, meets the son of North Carolina's governor at a fancy party where she's working. Laire, who wants so much more from life than her little island can offer, is swept away by wealthy, sophisticated Erik, who is, in turn, entranced by her naiveté and charm. The two spend a whirlwind summer together that ends on the knife-point of heartbreak and forces them to go their separate ways.
Years later, when fate leads them back to one another, they will discover the terrifying depth of the secrets they kept from each other, and learn that shattered hearts can only be healed by a love that willfully refuses to die.

Genre: Fantasy

Don't Speak by Katy Regnery
Amazon UK