No Comments
Free Three Romantic Thriller/Suspense Ebooks!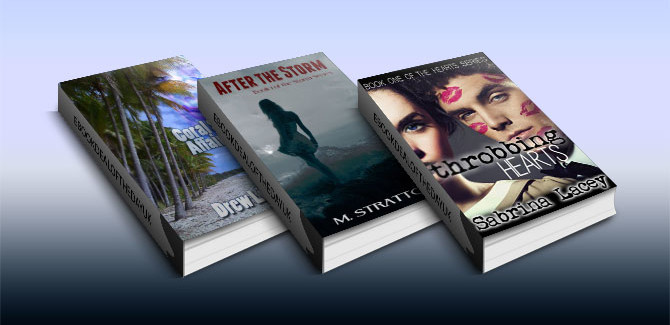 Free!"Coral Sea Affair (Ben Hood Thrillers Book 1)" by Drew Lindsay
Genre: Crime, Thrillers, Mystery & Romance
Ben Hood is a suspended Australian Police Detective. He joins a VIP protection company and is sent to exotic Port Douglas in Far North Queensland to watch over a breath taking, upcoming starlet, Brenda Grant and her American film crew as they make a movie on the Great Barrier Reef. He never expected to get within a million miles of this amazing woman in his wildest dreams….let alone kiss her; touch her. Initially their hilarious encounter is just great fun. It's Ben Hood's mid life crisis dream come true. Then it goes bad. EXTREMELY bad.
Free! "After the Storm (The Storm Series)" by M. Stratton
Genre: Thrillers, Romantic Suspense
Book One of The Storm Series
Alexia "Lexi" Hanson moved across the country to rebuild her life after the attack that almost destroyed her. She enjoys the simple things in her beach cottage. Life is finally complete.
Noah Matthews is Rock & Roll's hottest star and on top of the world. After years without a break he finds the solitude he craves at his beach house. Enjoying his early morning coffee, Noah is surprised to see his neighbor sneak into his garden and crawl around.
They never saw that fateful morning coming. Someone was watching them. Someone who thought Lexi belonged to him and would stop at nothing to have her.
Lives are changed forever when they meet amongst the blooms in his garden. Even when things seem darkest, there is always light After the Storm.
Free! "Throbbing Hearts (Hearts Series Book 1)" by Sabrina Lacey
Genre: Coming of Age, Romantic Suspense
Brendan Clark and Annie O'Brien aren't ready to meet, but that doesn't stop them. He's just out of college and she's another year to go, still heavy in her goth, sarcastic stage. Brendan's newly single – for the first time in four years. He's decided women can't be trusted, and he's right… except for the one girl who he can't see. This is the extended part 1.
___________________
HEARTS SERIES: Throbbing Hearts (part 1), Reaching Hearts (part 2), Crushing Hearts (part 3), Tempting Hearts (part 4), Tangling Hearts (part 5 coming July 4th)
17+