No Comments
Free Historical, Christian and Western Romances!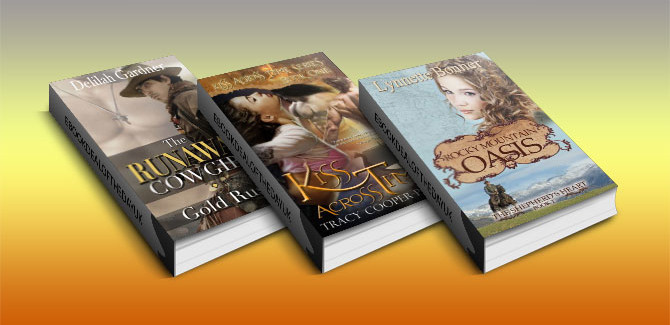 Free!"The Runaway Cowgirl: Gold Rush (Part One)" by Delilah Gardner
Genre: Western Romance, Erotica
Bernadette Temple is a victim of a loveless marriage, stuck on a lifeless ranch in a remote part of the American West. Her unfulfilled love-life takes a turn for the unexpected, however, when wandering nomad rancher Lee 'Kelly' Kellies sets his sights upon her homestead. Disobeying the wishes of her drunken, abusive husband, Bernie puts her cowboy visitor to work, and it's only a matter of time until they find one another's arms in an adulterous tryst!
Soon their lives are inextricably tangled, and their fates are sealed; Kelly makes an heartbreaking decision, and Bernie decides that she must have her wandering cowboy, even at any cost…
Free! "Kiss Across Time (Kiss Across Time Series)" by Tracy Cooper-Posey
Genre: Time-travel, Paranormal Romance
A single kiss can change more than one life…or two.
Taylor Yates is fired for insisting the 5th Century Arthurian poet, Inigo Domhnall, existed. When she hears Domhnall's lyrics in a death metal song, she engineers a meeting with lead singer, Brody Gallagher. An unintended kiss sends them spinning back to the poet's time, when Saxons were pillaging King Arthur's Britain.
Brody's all for kissing her again. More, he wants her to kiss his friend and lover, Veris, to see what will happen. When Veris' kiss sends them back to the time of the Vikings neither man is willing to let Taylor simply walk out of their lives.
But Brody and Veris are more than lovers and sexual playmates, as Taylor learns when they investigate the kisses that send them across time. The secrets they share have the power to completely alter her life.
Warning: This story features two super hot alpha vampire heroes, multiple sex scenes, including anal sex, MM sexual play, and MMF sex. Do not read this book if frank sexual language and sex scenes offend you.
Free! "Rocky Mountain Oasis (The Shepherd's Heart" by Lynnette Bonner
Genre: Christian Fiction, Historical Romance
He's different from any man she's ever known.
However, she's sworn never to risk her heart again.
Idaho Territory,
Brooke Baker, sold as a mail-order bride, looks to her future with dread but firm resolve. If she survived Uncle Jackson, she can survive anyone.
When Sky Jordan hears that his nefarious cousin has sent for a mail-order bride, he knows he has to prevent the marriage. No woman deserves to be left to that fate. Still, he's as surprised as anyone to find himself standing next to her before the minister.
Brooke's new husband turns out to be kinder than any man has ever been. But then the unthinkable happens and she holds the key that might save innocent lives but destroy Sky all in one fell swoop. It's a choice too unbearable to contemplate…but a choice that must be made.
A thirsty soul. Alluring hope. An Oasis of love.
Step into a day when outlaws ran free, the land was wild, and guns blazed at the drop of a hat.