No Comments
Francesca of Lost Nation by Lucinda Sue Crosby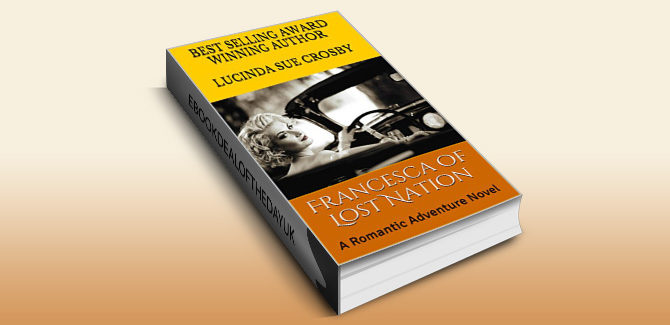 Realtime Price: £0.77

This romantic adventure is "funny at times and filled with little pearls of everyday wisdom, it is as much a romantic suspense as it is a perfect little capsule of a time gone by.
It is a book about love of all kinds – between grandmother and child, between child and dog, between man and woman."
Here's a little about the story:
When a mysterious man named Matthew appears in the small Iowa town of Lost Nation, his sudden arrival raises questions about his past. Quiet with an apparent taste for rum, Matthew makes it clear he doesn't want to make friends. He isn't too pleased to be dropped off at Home Farm where the independent and eccentric Francesca doesn't accept bad manners or booze binges.
Matthew doesn't want to form personal ties and intends to move on as soon as his damaged leg from a recent plane crash heals. But a series of events draw him into reluctant relationships: One with the feisty Francesca, the second with her 10-year-old granddaughter Sarah.
In spite of her own reservations, Francesca finds herself falling for this brooding pilot but his past looms between the pair and what neither knows is that Sarah, Francesca's 10-year-old granddaughter, has encountered a stranger of her own … leading to a climatic confrontation that will put her and her grandmother's life in danger.
There are plenty of eccentric characters, including Francesca who is quirky and full of secrets – she keeps the town gossips busy. There are some dramatic family dynamics that cause tension and uneasiness at times. Because the story is told through the wide-eyed 10-year-old Sarah, this romance mystery is humorous at times too.
Men love this book too
The tale takes place in late 1940s Iowa in an Urban community. It is a family saga with romance, drama and suspense. Enough of each genre to keep the reader engaged. This romantic novel has women leads and heroes, but surprisingly the literature has appealed to a lot of men too. Judge for yourself.
Family and Drama
This work is a multi-leveled love story encompassing two main relationships: One between an older woman and a younger man and the other between a grandmother and granddaughter …
Subtler but no less important themes include
* the nature of sisterly rivalry and its wounding affects over time< * the power and caveats of young love * how truly open acceptance of the differences between and among us softens not just the perception but the actual livingness of life * how vital it is to have fun – to play – to celebrate often and completely Francesca of Lost Nation is a coming-of-age story of course, but in a strangeway, the 59-year-old woman changes and matures emotionally as much as the nine-year-old girl. But more than that it is about days long gone - post WWII in rural Iowa where people pulled together, worked hard and respected structure, honor and duty. The story also hints at the sentiment of the time about family bonds. You can see it especially between the friendship of Francesca and her granddaughter: The young girl drawing and learning from the wisdom and experience of the elder. Here's a couple noteworthy quotes from the book: "Happiness is a treasure, Sarah, especially someone else's. It is therefore civilized behavior to think carefully before you set about spoiling it." (p. 27) "It's a terrible thing when you discover something truly important about someone you love only after they're gone." (p. 90) As a side note: Fans of the movie Pretty Woman will be interested to note that this romantic suspense novel is penned by Pretty Woman actress Lucinda Sue Crosby who had a role in the runaway love film of our times, as one of the Olsen twins. So scroll to the top and buy this kind
Genre: Adventure Family Saga, Romance


Amazon UK