No Comments
Three Regency Historical Romance Ebooks!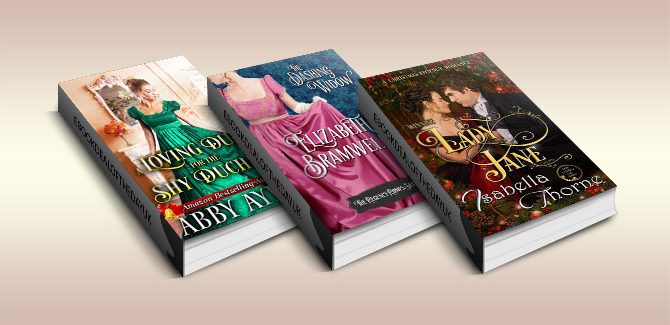 "A Loving Duke for the Shy Duchess: A Clean & Sweet Regency Historical Romance Novel" by Abby Ayles
Genre: Historical Romance, Regency Romance
She had learned to accept only the love she thought she deserved…Until she met him..
Lucille Lockridge, daughter of the late Earl of Huxley, could not be any more different than her sister. She has learned to keep her head down, like a shell ready to be crushed at the first harsh remark of society. Now, a married woman, she must slowly start to realize that the man next to her, a man she never truly trusted, may have her best interest at heart after all…
Reginald Barrington, the Duke of Crowan, has spent all his life trying to escape a world of crimes and high society. Lucille has always been the one thing that kept his heart warm, but winning her trust may prove to be the hardest thing he has done is his life.
Right when she starts feeling her heart warming towards the Duke, a mysterious twist of fate comes to shake her life to its core once again. Now, Lucille may have to fight harder than ever to believe in her strength if she wants to save her loved ones and her marriage from the threat that lurks in the shadows…
Can she race against time to defend her life and honor with the help of her loving husband? Or will shame return once more to crush her in its waves?
*If you like engaging characters, heart- wrenching twists and turns, and lots of romance, then you'll love "A Loving Duke for the Shy Duchess!"
"The Dashing Widow: Book One in the Regency Romps Series" by Elizabeth Bramwell
Genre: Historical Romance, Regency Romance
Abigail Merriweather just wanted to be accepted by the Ton, but when that proved impossible, she set out to scandalise them all instead; especially the stuffy Earl of Gloucester. The man is insufferable, arrogant, and everything that Abby hates about the Ton – except those rare moments when he laughs, and Abby's heart starts to beat in a most uncomfortable rhythm.
George, Earl of Gloucester, is horrified at the scrapes his sister's best friend keeps falling into, and the poor light it throws onto his family as a result. She's impulsive, tempestuous, headstrong and willful; in short, everything that he claims to dislike in a woman. The longer he spends in her company, however, the more he finds that her faults are rather endearing.
AS their mutual respect and admiration grow it becomes increasingly obvious that their worlds are not entirely compatible. Is it possible for them to find a way past their own prejudices – and the interference of their friends and family – and fall in love without creating a scandal?
"Winning Lady Jane: A Christmas Regency Romance (Ladies of Bath, Book 0)" by Isabella Thorne
Genre: Historical Romance, Regency Romance
Christmas Cheer and Happily Ever After.
Dukes, earls and brave ladies, all wrapped up like a present with a dangerous Christmas masquerade!
Randolph Keening, the Earl of Keegain, is engaged to be married, and therein lies the problem.
He does not love his intended bride, but he will honor his word, both to the lady and to his late father.
When Miss Jane Bellevue traveled to Kennett Park for the Christmas holiday, she never expected to fall in love with her best friend's brother.
But from the moment Jane first locked eyes with Lord Keegain, she knew she was meant to be his.
If only he was not already promised to the cold but beautiful, Lady Margret Fairfax.
Lady Margret is everything Jane is not.
Why would the earl notice her when he could have a proper lady?
But there is more afoot at Kennett Park than a simple Christmas Ball.
With a borrowed identity, during the Christmas Masquerade Jane runs afoul of a dangerous plot. Jane's life may be in peril, but it is the loss of her heart that she fears the most.
Trapped in the web of upper society that she does not understand Jane must uncover what it is that truly makes a lady noble.
Lord Keegain has always been an honorable man, but with a traitor in his own house everything has changed.
Miss Bellevue is in danger and England is at stake.
The earl is determined to bring the villains to justice, no matter the personal cost. He has given his vow to Lady Margret, but it is the lovely Jane Bellevue that holds his heart.
Balancing love against honor, the intrepid pair must catch the culprits or risk losing their own happily ever after.
Join Jane and Lord Keegain on this Heartfelt Christmas Romp.
Isabella Thorne's Christmas new release 2019 Winning Lady Jane