No Comments
Three Free iBooks this Wednesday!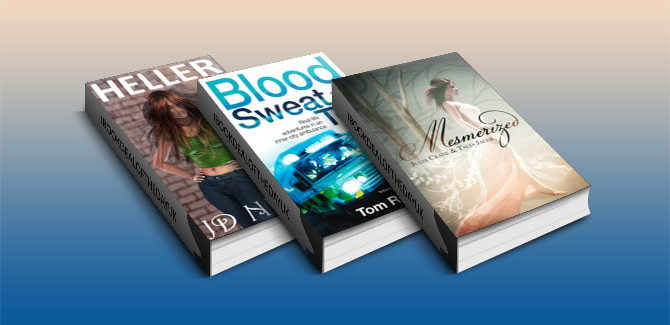 "Mesmerized" by Julia Crane & Talia Jager
Genre: YA FAntasy, Romance
Seventeen-year-old succubus Lily Anderson can't have a normal life: She isn't allowed a boyfriend, she has no friends, and school is just one mess-up after another.
Lily's parents send her away to the prestigious Emerson Academy. It doesn't appear to be any different from the others. That is, until she meets her roommate, Hannah, and a blue-eyed boy named Jake.
Lily makes an almost deadly mistake, and Jake has a mysterious past that has come back to haunt him. Together, they must go on the run from things neither of them understand in order to save the people they love—and each other. But, Jake's foe is more dangerous than they realized, and it will take the help of friends and family to save the man Lily loves.
She must learn to use her powers for good before it's too late.
WARNING: This is a mature YA. Due to sexual content and some language it is not recommended for younger teens.
"Heller" by JD Nixon
Genre: Crime Fiction, Thrillers
Book 1 in the Heller series. Despite having no experience or skills, Tilly Chalmers can't believe her luck when she lands a dream job in a security and surveillance business owned by the dangerously attractive Heller. But she soon discovers her new boss is a man of many secrets. And what is she to make of the strange group of people who live with him? After her first two assignments go disastrously wrong, and with a ruthless competitor on the scene, Tilly must decide if she has what it takes to survive the rough world of security work.
"Blood, Sweat and Tea" by Tom Reynolds
Genre: Biography
A beautifully written insight into the stresses, strains and successes of working for the London Ambulance service.
Is there anyone who hasn't wondered about the state of the occupant of an ambulance, screaming along with its sirens on and blue lights flashing? Have you? And have you wondered about the other people inside the ambulance, maybe fighting to save the patient's life? Or have you considered that the ambulance may be another 'maternataxi' ordered by a woman who can't be bothered to book a real cab and who then complains she can't smoke on the way to hospital? And that the medical technician inside might just be desperate to get back home from a busy shift, to have a cup of tea and catch up with his blog?
Meet Tom Reynolds. Tom is an Emergency Medical Technician who works for the London Ambulance Service in East London. He has kept a blog of his daily working life since 2003 and his award-winning writing is, by turn, moving, cynical, funny, heart-rending and compassionate. It is never less than compelling.
From the tragic to the hilarious, from the heartwarming to the terrifying, the stories Tom tells give a fascinating – and at times alarming – picture of life in inner-city Britain, and the people who are paid to mop up after it.