No Comments
Slow Cooker Recipe Book: Dieter's Paradise by Diana Clayton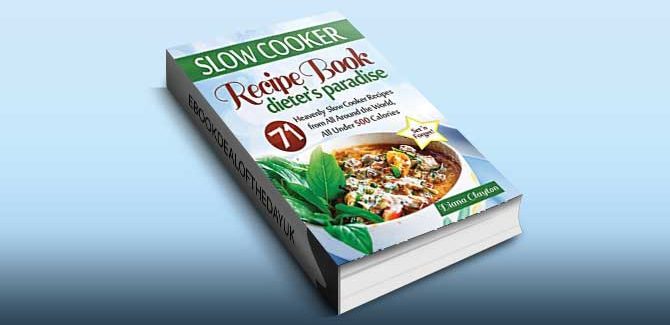 Realtime Price: £2.99

Good cookbooks are hard to find. Great cookbooks are a rare find. But rejoice because you've found the jewel in the cookery haystack with Diana Clayton's Slow Cooker Recipe Book: 71 Heavenly Slow Cooker Recipes from All around the World, All under 500 Calories. This creative Slow Cooker Recipe Book is a culinary travelogue—visit Italy, India, Morocco, France, the Caribbean, Mexico, the Mediterranean, and more through its delicious food and never have to leave the comfort of your home. Who knew the perfect getaway was right in your own kitchen?
As if the 71 slow cooker recipes aren't enough, the 500 calorie revelation is pure bliss! Who can turn down a great tasting dish that won't put a pound on your hips and is effortlessly prepared in a slow cooker? The Slow Cooker Recipe Book: Dieter's Paradise contains culinary masterpieces thoroughly tested by Diana herself, and developed to please all of your senses and make your mouth water. And, the excellence doesn't stop there—each slow cooker recipe has the nutritional breakdown at the end of the page as well as a cooking tip for the culinary connoisseur. Reading this cookbook will turn food into your latest obsession…but aren't you glad each dish is under 500 calories?
Inside the book you will also discover …
Mouthwatering slow cooker meals with NO pre-cooking involved! With Diana's recipes, just put everything in the pot, switch it on, and be on your way out the door in no time.
Hints, Great Tips, and background info for each delicious meal
Nutritional information for each meal, with stated calories for any recommended sides. Plus servings for 2! PERFECT for those going at a diet alone (or who simply live alone) and easily scalable for those who need to cook for a big family)
An excellent lovely variety of recipes from India to Morocco to Spain and more!
PLUS: An introduction on how to get the absolute best out of your slow cooker. From the best meats, to the different slow cooker sizes, Diana covers what you need to know to create the best slow cooker experience.
Indulge, my friend, and Bon Appetit!
Genre: Nonfiction, Diets & Weight Loss

Slow Cooker Recipe Book: Dieter's Paradise: 71 Heavenly Slow Cooker Recipes from All Around the World, All Under 500 Calories by Diana Clayton
Amazon UK