No Comments
Magic Fated Mates: Box Set by Michelle M. Pillow, Mandy M. Roth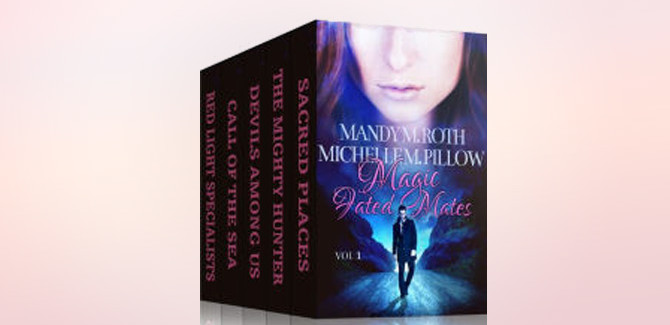 Realtime Price: ERR

Save on the following titles:
Sacred Places by Mandy M. Roth (Reg $2.99)
The Mighty Hunter by Michelle M. Pillow (Reg $3.99)
Devils Among Us by Mandy M. Roth (Reg $2.99)
Call of the Sea by Michelle M. Pillow (Reg $2.99)
That is nearly a $12 savings off cover price!
PLUS get the Bonus Story:
Red Light Specialists by Mandy M. Roth & Michelle M. Pillow
Sacred Places by Mandy M. Roth
Coyle O'Caha, a seven-hundred-year-old immortal, druid sorcerer, is a famed warrior among his kind and a legendary ladies' man–but that doesn't mean he hasn't spent his life looking for his soulmate. That one woman who will make him feel whole. When Deri walks into his seaside pub, clearly running from something or someone, it's all he can do to not sweep her off her feet and claim her right then and there. It's as if the goddess is mocking him. Not only is his mate immune to his charms and his magik, she's human.
Deri Sullivan's new boss has a Scottish lilt that makes her knees weak. The problem is he's a certified ladies' man. And she's sworn off those types–for good. If only she could stop dreaming about him in ways that would make any girl blush. See, she has a secret, and even if she wanted to let Coyle into her bed, she couldn't actually let him into her life. Witches and humans simply don't mix.
The Mighty Hunter by Michelle M. Pillow
Caderyn the Hunter, the sexiest-and perhaps craziest-man Bridget has ever laid eyes on may have rescued her from death, but who's going to rescue her from him? With a deliciously hot body and all the right moves, the man is a walking seduction that's too hard to resist. There's only one problem. Caderyn claims they're in the Abyss, living on a cursed island along the deep ocean floor. And, if that wasn't bad enough, he says he's a merman.
Devils Among Us by Mandy M. Roth
Keane has lived for centuries–taking what he wants, doing as he pleases. When a beautiful young woman catches his attention, he finds himself drawn to her like a moth to a flame. He knows better than to expect more than pleasures of the flesh from her, yet he can't seem to stop himself. Seducing her will prove to be a dangerous challenge. Keeping her will prove nearly impossible.

Hannah's new secret admirer is more than she bargained for. As a slayer sworn to police the demons who dare to roam the earth, she has enough to worry about. She doesn't need some mysterious guy trying to seduce her–especially one who puts her at odds with what she was born to do. She's no match for Keane's seductive powers, and when his brother, Janco, announces he too is drawn to her, she knows she's in way over her head. But she can't stop herself. She wants them both and they want her.
Note: This title was previously released under another title and under the pen name Darby London.

Call of the Sea by Michelle M. Pillow
Cursed by the power of the Cancerian crab, Ceana is doomed to spend her eternity in the ocean as a mermaid. Her only relief is on a full moon, when she becomes human and must find shore. Centuries have passed and she's all but given up on the one who could save her. Brief passion is all she has and she's willing to take what she can get–especially if it's with an intriguing lycan, Ian O'Connell, who's untamed nature just might be her salvation.
Red Light Specialists by Mandy M. Roth & Michelle M. Pillow
Three sexy secret agents. Three even sexier missions…
Bianca, Sonja and Trinity were given a choice–become RLS-69 special agents or continue to serve out their prison sentences at the Restigatio Woman's Correctional Facility. Trained to complete their mission by any means necessary, these women aren't afraid to pull out all the stops.
Genre: Paranormal Romance


Amazon UK