No Comments
Secrets From The Podium: True Musical 'Happenings'. While conducting orchestras – Worldwide by Gary Daverne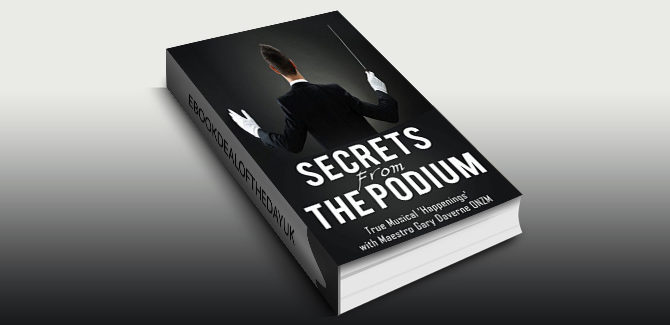 Realtime Price: £4.40

A captivating and intriguing insight into the joys, the mishaps and the very real 'Happenings' that surround symphony orchestras, performance groups and musical theatre. All told by a man with a lifetime onstage, offstage and occasionally even under the stage.
Maestro Gary Daverne ONZM tells us so many of the delightful stories, precarious events and just hilarious moments encountered over many decades of his life at the top (and sometimes nearer the bottom) of his chosen field.
(See below for Gary's "Pirates of the Caribbean" Youtube video with over 11 million views)
Gary's artistic brilliance, musical talent and composing genius, along with conducting, directing, arranging and producing skills have earned him worldwide renown and admiration. To the extent that, in 1996, he was appointed an Officer of The New Zealand Order of Merit. An honour bestowed by Her Royal Highness Queen Elizabeth II, the Queen of England.
This wonderfully entertaining collection of interludes and anecdotes come from areas such as: Musical theatre – TV shows – National Day celebrations – Military Tattoos – Symphony orchestras – Operatic performances – Massed Choirs – Accordion orchestras – Grand scale outdoor concerts – Theme parks – Recording sessions – School musical productions (choirs and orchestras) – Radio broadcasts – Brass bands – and as Adjudicator for many international musical competitions and festivals.
Gary has shared his talent (and gathered these wonderful stories) in so many exotic locations: New Zealand (Gary's home country), Australia, Fiji Islands, China, Singapore, Hong Kong, Germany, Switzerland, Austria, Italy, Turkey, Hawaii and extensively across mainland USA, Canada, United Kingdom, Indonesia, Portugal, France, Malaysia, South Korea, Taiwan, Brazil.
See Gary on YouTube
Pirates of the Caribbean (Auckland Symphony Orchestra) 1080p
(over 11 million views and growing)
This heartwarming and fascinating collection of episodes will thrill music and theatre fans, as well as those just wanting a wonderful read and background look behind the scenes in the amazing world of music that is such a big part of all our lives.

Genre: Romantic Suspense, Mystery, Adventure


Amazon UK