No Comments
Justice, Book 2 by Mimi Barbour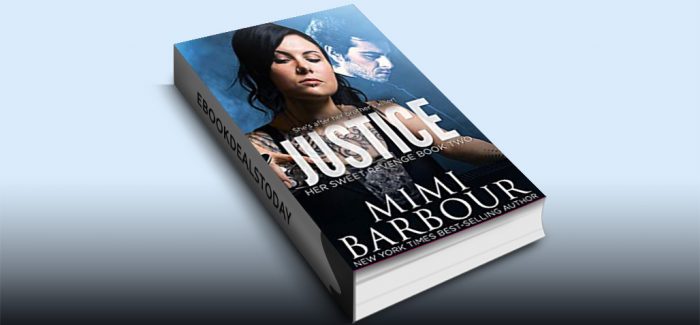 Realtime Price: £2.91
Driven by revenge, she'll do whatever it takes!
Cassidy Santino is closing in on the mobsters who murdered her brother and there's no way she's giving up her quest for revenge. She's working at a seedy bar where the gang members hang out so she can dig up information that might lead to finding his killers. When jealous hookers and sleazy barmaids try forcing her to leave, she fights back. For the love of an old rascal who owns the neighborhood gym, she helps train his protégé in the boxing ring. For her sanity, she clings to her relationship with the one man who makes life worth living..
Detective Trace McGuire loses his mother, the person who's meant everything to him until Cassidy Santino explodes into his life. This chick's got him so tied up that he's willing to shirk responsibilities in his job and cut her slack for interfering in his investigation. But, when Cassidy keeps putting herself in danger from the lunatic who owns the bar where she works. That's where he draws the line. He's determined to protect her, even if she fights him every damn inch of the way.
And man… can this girl fight!
Book #1 – Retaliation
Cass won't rest until her brother's murderers are jailed or dead. She goes after them one at a time with no intention of stopping until she has her revenge. Detective McGuire takes a bullet for her. Now the annoying man believes she's his responsibility and wants to stop her, protect her… control her.
Book #2 – Justice
When she continues to dig for information on who killed her brother, Cassi's life becomes fraught with danger. Between bartending in a sleazy joint, getting into fights with hookers and trying to scare off her stalker, she never seems to get any time to just be a girl in love.
Book #3 – Resolution
Since her brother Raoul's murder at the hands of his own gang members, revenge has driven Cass to find answers. Money, hidden by Raoul, is funding her quest. And tenacity born of hate fuels the relentless need to make those killers pay.
Book #4 – Endings
Cassi's a fighter who won't stop until she gets justice for her murdered brother. Once she's faced with the ultimate cost, will she be able to see it through? And can she live with herself if she doesn't?
Book #5 – Faith
Faith's always tried to be a good person. From the beginning, everything was against her. A sick mother forced her into a world of drugs and sexual dysfunction that she couldn't overcome. Until she lost the man she loved and found a baby who filled her heart.
Book #6 -Leni
Leni believes her mother didn't come back for her because she'd died. Wrong! Blackmail finally forces the woman out of the shadows. On top of these stresses, Leni learns the name of her cousin's killer. Payback is her only option.
Genre: Romantic Suspense

Justice (Her Sweet Revenge Series, Book 2) by Mimi Barbour
Amazon UK