No Comments
Free Western, Contemporary and Romantic Suspense!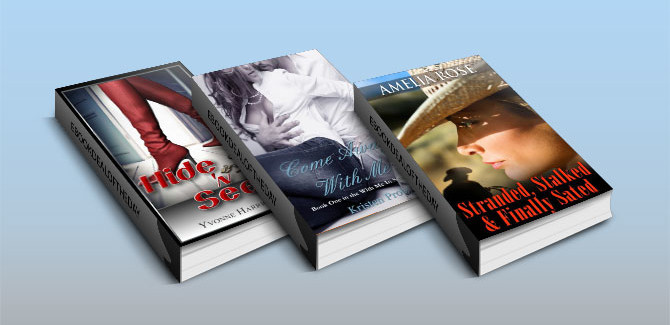 Free!"Hide 'N Seek" by Yvonne Harriott
Genre: Romantic Suspense
Private Investigator, Marklynn Brooks has a major problem and this time it's personal. Her sister, Sydney, is missing and the trail leads to Dalton Beck, CEO of Beck Security Systems. He denies any involvement in Sydney's disappearance, but with the evidence stacked against him, can she believe him? As she races against time to find her sister, she's not only in danger of losing Sydney she's also in danger of losing her heart.
Dalton Beck is positive that Sydney is responsible for the security breach at his company. Someone is hacking into his computer system. To find the truth he turns to Marklynn for help. She doesn't trust him but he's not going to let that stop him as an attraction develops between them. But to earn her trust, he must make the ultimate sacrifice in order to save his company and catch a killer who will stop at nothing to destroy them.
Free! "Come Away With Me (With Me In Seattle)" by Kristen Proby
Genre: Contemporary Romance
Being confronted on the beach by a sexy stranger wasn't part of Natalie Conner's plans for a peaceful morning taking photos. And why on earth would he think she's taking pictures of him, anyway? Who is he? One thing's for sure, he's hot, and incredibly romantic, feeding Natalie's wounded soul.
Luke Williams just wants the world to give him a break, so seeing yet another camera aimed at his face has him ready to pounce on the beauty behind the lens. When he finds out she has no idea who he is, he's intrigued and more than a little tempted by her. Natalie has a body made for sex, a sassy mouth and Luke can't get enough of her, but he's not ready to tell her who he really his.
Natalie is a no nonsense girl who doesn't do well with lies and secrets. What will happen to this new relationship when she discovers what Luke's hiding?
Free! "Stranded, Stalked and Finally Sated ( Western Cowboy Romance) (License to Love Series:Book 1)" by Amelia Rose
Genre: Western Romance
Clara Roberts has found herself forced to flee across country, pursued by a madman who seems to have access to every aspect of her life. Consequently, she is off the grid and under the radar when her truck breaks down in a small corner of Southwestern, Oklahoma, and she finds herself at the mercy of a local cowboy. While she knows that she will eventually have to keep running to stay one step ahead of her stalker, she begins to find herself drawn to this man. With his support she decides that her life is something worth fighting for.
Shad Brandt wasn't sure what to expect when he pulled over to help out the girl on the side of the road, but it isn't long before he realizes that she was a lot more than he bargained for. He knows that she is running from something, but he can't quite place his finger on what it is. However, he cannot turn his back on this woman in need and when he opens his home and his heart to her he finds something else entirely. So when danger comes to lay claim to Clara, he finds that he is willing to sacrifice everything to make sure she stays safe.