No Comments
Free Three Romantic Fictions this Wednesday!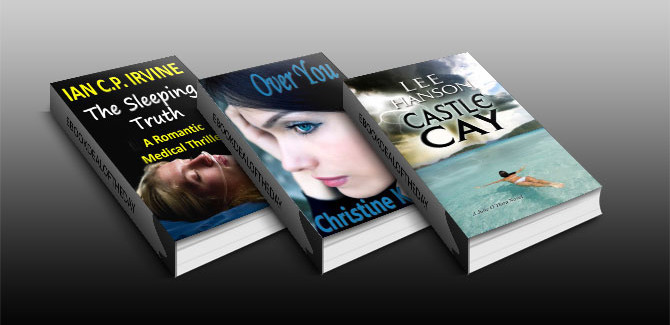 "The Sleeping Truth BOOK ONE" by Ian C. P. Irvine
Genre: Romantic Medical Thriller
In an attempt to escape from his past and start a new life, Andrew Jardine moves to London in July 2005 and moves in with his best friend Guy.
But when out one night in London, Andrew accidentally sees Guy's new girlfriend, Sal, intimately kissing another man. Knowing that Guy thinks Sal is 'the one', Andrew is now faced with a terrible dilemma: does he tell Guy what he has seen, or does he ignore what he saw?
But before Andrew can make up his mind what to do, the train Sal is commuting to work on is blown up by the terrorist bombs of the 7th July 2005. Suddenly everything changes. Sal is left in a coma on the edge of life, and in the aftermath of the explosions, Andrew is thrust into the centre of a complex web of relationships where the lives and happiness of those closest to him suddenly become dependent upon him making the right set of choices.
Who is the girl in the coma, really? What is the truth behind her illicit encounter with the stranger in a night club? Should he tell his best friend the truth? Or should he let nature and events take their own course?
While struggling with his conscience in an effort to decide what decisions he should make, Andrew meets a beautiful doctor from Slovakia, and he begins to fall in love.
But can he trust her? What is the truth behind her past, and her feelings for Andrew?
Then, just when events seem to be coming to a happy conclusion, Andrew discovers that everything in his life is based upon a set of lies, and his world falls apart.
What is the real truth behind Andrew's past? And where does his future lie?
Set against the backdrop of London in 2005, this is a tale of our time.
The Sleeping Truth starts slowly, builds steadily, and then speeds on to an unexpected and emotional conclusion!
"Over You" by Christine Kersey
Genre: Romantic Suspense
When Jessica Stevens temporarily moves in with her elderly aunt to help care for her, she plans to use the time to heal from a recent break-up. But when her aunt decides to do some remodeling on the old house, Jessica is dismayed to discover that the contractor is her ex-fiancé, a man who dumped her several years before.
Helping distract her from her troubles are mysterious fifty-year old letters she finds in her aunt's attic. The contents of the letters spur Jessica to do some digging, but as the truth of the past begins to be revealed, Jessica regrets ever finding the letters.
Over You does not contain any profanity or sexual content.
"Castle Cay (Julie O'Hara Mystery Series)" by Lee Hanson
Genre: Romance, Mystery
When her best friend is murdered, Julie O'Hara, a body language expert, packs up her suspicion and flies to Boston for his funeral. Who could have killed rising artist Marc Solomon, and what does Castle Cay, the Solomon's mysterious Caribbean island, have to do with it? Before long, Julie's sixth-sense pulls a hidden string that unravels a deadly conspiracy…and her own troubled past.