No Comments
Free Three Romances this Tuesday!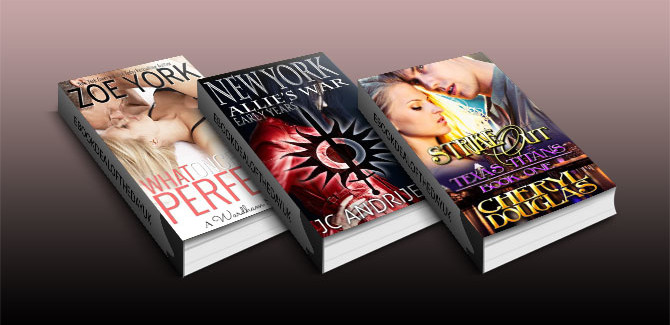 Free!"What Once Was Perfect: Wardham Book #1″ by Zoe York
Genre: Contemporary Romance, Erotica
He was her first love…
…and she's always owned a piece of his heart.
Heading home always stirs up mixed emotions for Laney Calhoun. Twelve years ago she left for graduate school, broken-hearted. She's found professional success, but positive personal relationships have proved elusive. Running into her ex-boyfriend fans flames she thought long extinguished, renews her interest in love. Not with Kyle, of course. Never again. But as sparks fly and items of clothing disappear, she scrambles to lock down her heart.
Free! "New York: Allie's War Early Years" by JC Andrijeski
Genre: Urban Fantasy, Romance
NEW YORK: Allie's War Early Years
"I never liked New York all that much…"
Allie calls it her New York jinx. Already on this trip, obnoxious band groupies hang all over her boyfriend, a stalker leaves her cryptic and creepy notes, and she nearly gets arrested watching a Seer get tasered by cops who act like not-cops. One of them, a tall, black-haired guy with strangely colorless eyes, keeps showing up everywhere Allie goes.
But when a religious cult targets Allie for an end of the world ritual, her visit goes from annoying to quite probably fatal.
A prequel novel in the Allie's War series, an alternate history romance featuring a gritty, unique and modern day Earth with star-crossed telekinetic lovers, Allie Taylor and Dehgoies Revik.
Free! "Strike Out (Book One, Texas Titans)" by Cheryl Douglas
Genre: Contemporary Romance
When professional baseball player, Zach Foster, agreed to go into business with five of his best friends, he didn't expect their little sports bar to evolve into a national chain, spanning fifty states, but it did. The business helps to fill the void in Zach's life during the off-season, but when he closes his eyes at night, he still can't forget the girl who left that gaping hole in his heart when she left him standing at the altar.
Lauren 'Rennie' Alexander would do anything to fulfill a sick child's wish. Not only is it her job, as director of the Sky's the Limit Foundation, but it's her passion. So when her assistant brings her a letter scribbled in crayon, complete with an application from the little boy's loving parents, Rennie is ready to make another dream come true. Until she realizes that sick little boy's dream is her worst nightmare. He wants to meet his hero, baseball player, Zach Foster. The same lying jerk who broke Rennie's heart. It's seems she has no choice but to take one for the team.