No Comments
Free Three Romance Kindle Books!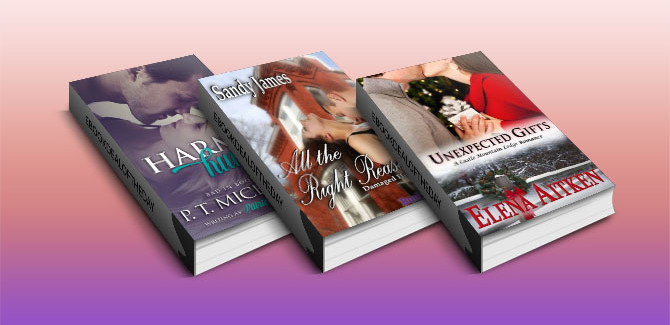 "Harm's Hunger, Contemporary Western Romance (Bad in Boots, Book 1)" by Patrice Michelle
Genre: Contemporary Western Romance
**Includes mature content**
In order to meet her Great Aunt Sally's will's stipulation to 'handle the sale personally,' Jena Hudson visits Texas to finalize the sale of her aunt's ranch to her neighbor, Harmon Steele. What Jena didn't expect was to fall for the rugged, sexy cowboy.
Harm might find Jena to be the most sensual creature he's ever met, but he won't let her sultry body be more than a satisfying distraction. He learned a long time ago, happy-ever-afters are best left for childhood fantasies.
So, what's a girl to do when she finds out the man of her fantasies doesn't believe in a happy ending? Given the right set of circumstances, she'll create one for him.
"All The Right Reasons [Damaged Heroes 3]" by Sandy James
Genre: Contemporary Romance
Can love heal all wounds? Lucas Mitchell returned from Iraq a bitter, changed man, wracked with guilt over his friend's death. He buys an old mansion and deals with his injuries and grief by restoring his new home and rehabilitating retired racehorses.
Joy Kovacs falls in love with Lucas at first sight. Descended from gypsies who are still influenced by the lingering effects of the Holocaust, her family follows the traditional ways. A husband has already been selected for her, and her father insists she work at their ethnic restaurant. But Joy wants to use her talent and be an artist, and she wants no one but Lucas.
How can Joy find a way to help Lucas break out of his prison of grief? Although they've committed their hearts to each other, can the growing love and passion between Lucas and Joy survive her family's insistence that she marry within her culture?
"Unexpected Gifts (A Castle Mountain Lodge Romance)" by Elena Aitken
Genre: Sweet, Contemporary Romance
Christmas represents everything Andi Williams is supposed to have, and doesn't. Running away to a remote mountain lodge in the Canadian Rockies, sounds like the perfect way to escape, until a mix-up finds her sharing a villa with sexy, rough around the edges, Colin Hartford.
Colin's determination to enjoy the holiday he's missed for the last five years, sweeps Andi into a season of joy that she's not sure she's ready for. Can Andi open herself up to everything the holidays have to offer…including love?