No Comments
Free Three Romance Ebooks!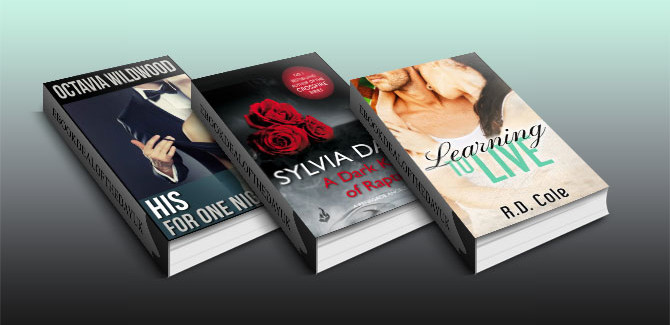 "His for One Night (His #1)" by Octavia Wildwood
Genre: New Adult, Romance
After a bad night, straight-laced college instructor Daniella James finds herself drowning her sorrows at a local bar. It's not her type of place, but she doesn't feel like being alone. Then a handsome stranger in an expensive suit walks into her life and nothing is ever the same again.
The heir to a vast fortune, Hayden Slate leads a life of privilege. He travels the world to purchase rare pieces of art – a glamorous job if there ever was one. But just like the paintings he buys, there's more to Hayden than meets the eye.
Not sure what to make of the mysterious stranger at first, Daniella proceeds cautiously. But the attraction between them is instant. Soon Daniella finds herself wanting to try all sorts of steamy new things with him…
But Hayden, plagued by demons, is a walking contradiction. He warns Daniella their relationship must remain casual but his actions are those of a man who longs for an intimate connection. Confused and frustrated, Daniella finally confronts him, determined to unearth his long-buried secrets.
Can she get through to the troubled heir or will her questions send him over the edge?
This book contains explicit adult situations.
It is the first part of the His trilogy.

"A Dark Kiss of Rapture (Renegade Angels)" by Sylvia Day
Genre: Paranormal Romance
Of all the Fallen, Raze's hungers are some of the darkest and most insatiable. His brazen seductions cost him his wings, leaving him soulless and immortal, the most dangerous of seducers. He has roamed the earth for eons, hunting the rogues of his kind and protecting the humans who provide him with blood and sex. He is content with his life and the transient pleasures that flow through it… until one night and one woman change everything.
Kimberly McAdams is smart, beautiful, and wealthy. She can have any man she wants, but the moment she sets eyes on the lethally stunning Raze she knows he's the man she needs. As one searingly erotic night burns into something deeper and far more vital than either of them expected, an adversary from Raze's past sees a chance for revenge. Twisted by hatred, she will take from Raze what was taken from her—the precious gift of love.
"Learning to Live" by R Cole
Genre: Contemporary Romance
Due to strong sexual Content and language this book is not suitable for readers under 17
Being alive and living are not always the same.
Trudy Love is used to being on her own and has rarely been shown affection. Between growing up in foster care and her abusive boyfriend she has no idea what life can be. At 19 she goes through something no one should ever experience and is left alone once again. Six months later she moves to Mobile, Alabama where she meets someone whose eyes bring back memories of the one person she misses everyday. Too late she finds herself caught in a storm of emotions that are unwanted, but she's determined to fight them off.
Jaxon Coleman has a good life, and for him to attend one of the finest Med schools in the country and follow in his dad's foot steps is a dream come true. However, dreams can change in life and when he meets Trudy he knows his will never be the same. Jax knows she has secrets she is unwilling to share, but he's never given up on something he wants and he wants Tru.
Can Trudy stop resisting her feelings and welcome the chance to live a different life than she pictured or will her defiance and haunted past eventually take her out of Jax's reach?
After tragedy living is not easy, but with the right person it can be learned.