No Comments
Free Three Kindle Books this Wednesday!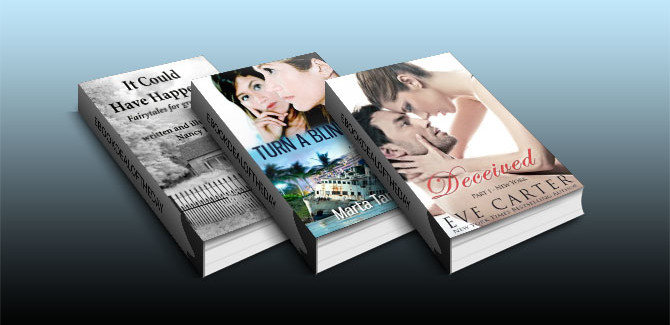 "It Could Have Happened" by Nancy Hill
Genre: Chick Lit, Magic Realism
Photographer Nancy Hill has written a collection of short stories to accompany her stunning images of deserted homes, old barns, and other unusual buildings and assembled photos and stories together in this anthology full of the unexpected and unusual. From a farmer who believes his cow is connected to his beloved departed wife to a tender memory of a spouse recalling years of marriage, these stories explore the nature of love. They also explore some rather peculiar relationships, such as a teacher who believes in her students to the bitter end, a man's compassionate understanding of the odd child tossed out of a train window, and a twin who has been tinted blue since birth. Each story has its own flavor worth savoring on its own, and blended together these adult fairytales awaken the readers' taste for the quirks of our hearts and souls.
"TURN A BLIND EYE" by Marta Tandori
Genre: Mystery, Romance
A murder mystery, a Key West adventure, family secrets, treasure hunting, and drug smugglers…
Eight years ago, Michigan retirees, Jack and Beverly Donnelly, had helped Libby Newton recover from an unspeakable tragedy. Now the tables are turned and it's the old couple who need Libby's help when the most recent consequences of Beverly's progressing dementia have left the old couple homeless. Libby, now the general manager of Banyan Bay Resorts, one of Orlando's premier timesharing properties, secretly stashes the old couple in a new luxury unit intended for the resort's VIP guests until she can find them a new home.
But the problems start almost immediately as Beverly's dementia leaves her in a state of constant confusion over her unfamiliar surroundings and when she announces that she's seen "Thanksgiving pilgrims" unloading boxes behind the resort's pizzeria, Beverly's announcement falls on deaf ears – until Rebecca Kendall, an attorney from Seattle, shows up at the resort a short time later, trying to retrace the last steps of her nineteen-year-old daughter, who'd abandoned her old life to embrace the Amish ways, only to be found dead in a south Florida motel six weeks earlier. Libby doesn't believe the two incidents are connected until Beverly is found dead a short time later, the tragic victim of a double homicide.
With the help of her sister, Mia, who's in Florida doing an exposé on one of the world's most elusive treasure hunters, the amateur female sleuths retrace Beverly's last steps – only to stumble upon a killer who soon has the sisters convinced that poor Beverly had been the sanest one of them all. In this wild ride of a murder mystery that starts in Orlando, the timeshare capital of the world and ends in a Key West adventure, the two sisters learn firsthand that honoring family secrets can be just as deadly as drug smuggling the forbidden cargo…
"Deceived – Part 1 New York" by Eve Carter
Genre: New Adult, Romance
The steamy first installment of the Deceived romance series by Eve Carter.
When Chloe Swanson, an innocent mid-western college graduate, lands her dream job in New York City, she doesn't realize what kind of a ride she's in for.
It doesn't take long before her boss, the charming and sharp businessman Patrick Collins, deceives her into being part of his plan to land the biggest account of his life.
However, he never expected that he would fall for her. Suddenly, he finds himself trapped between a ruthless billionaire client, who has her own eyes set on Patrick, and his deep affection for the beautiful Chloe.
What follows is a sensual and passionate journey of self-discovery, as Chloe faces the harsh reality of jealousy, love and money in the big city.