No Comments
Free Three Kindle Books this Saturday!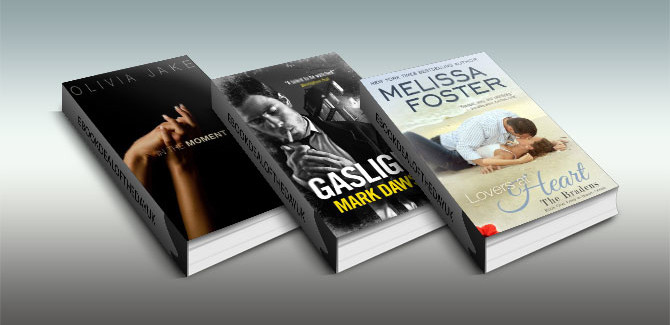 "Gaslight (A Soho Noir Thriller)" by Mark Dawson
Genre: Historical Fiction, Crime, Thriller
GASLIGHT
It's London, 1920. Newly demobilized soldiers have flooded the capital's streets but an ungrateful country isn't ready for them. Harry Costello has returned from the horrors of the Somme to no job, no money and no prospects. Desperate times demand desperate measures and when an opportunity to burgle a house presents itself, Harry seizes the chance.
When Harry and his brother Frank are blackmailed into paying off a local hood they decide to take care of the problem themselves. But when all of London's underworld is in thrall to the man's boss, was their plan audacious or the most foolish thing that they could possibly have done?
You think crime doesn't pay? Meet the Costelllos – the kind of criminal family that might make you change your mind.

"In The Moment (Moments)" by Olivia Jake
Genre: Erotic, Romance
For 39-year-old Sam Davis, career, independence and control have always defined her. Relationships have never been a priority, much less even on her radar. Not only has there never been enough time, but she's just never found the right man: someone strong enough not to be threatened by her success as well as a man whose own strength could allow her to give up some of her innate control. Between owning a successful Los Angeles entertainment ad agency and being the alpha-dog to her two pit bulls at home, Sam's used to calling the shots. Always. But when she pitches for, and wins The Network account, its charismatic French founder, Laurent Román makes Sam question everything she's ever known.
At Laurent's insistence, he and Sam meet daily for the better part of a month. He has a network to launch and the stakes, pacing and intensity couldn't be higher. Working this closely with the flirty Frenchman, they can't help but get to know each other better, each day, her resolve waning and the lines blurring making it harder and harder for Sam to fight her attraction and his overtures. But it isn't until they travel together that their relationship finally crosses the line. Sam had already witnessed Laurent's domineering tendencies, but now she realizes how truly dominating he is. He pushes her beyond her comfort zone, making her simultaneously question and crave the things he does to her. Much as Sam knows she shouldn't be sleeping with him, he makes her feel things she's never before felt. But as their passion grows, so too do Sam's fears that she's risking her reputation and perhaps her entire career.
"Lovers at Heart (Love in Bloom: The Bradens, Book 1)" by Melissa Foster
Genre: Contemporary Romance
Handsome, wealthy resort owner Treat Braden is used to getting what he wants. When Max Armstrong walked into his life six months earlier, he saw right through the efficient and capable façade she wore like a shield, to the sweet, sensual woman who lay beneath. She sparked an unfamiliar desire in him for more than a one-night stand, leaving his heart reeling and his blood boiling. But one mistake caused her to turn away, and now, after six months of longing for the one woman he cannot have, he's going home to try to forget her all together.
Max Armstrong has a successful career, a comfortable lifestyle, and she's never needed a man to help her find her way–until Treat Braden caught her attention at a wedding in Nassau, causing a surge of emotions too reminiscent of the painful past she'd spent years trying to forget. Max will do anything to avoid reliving that pain–including forgoing her toe-curling, heart-pounding desire for Treat.
When a chance encounter turns into a night of intense passion, Treat realizes that the mistake he made six months earlier may cause him to lose Max completely. He will do everything within his power to win her heart forever–and Max is forced to face her hurtful past head on for the man she cannot help but love.