No Comments
Free! "THEN LIKE THE BLIND MAN: Orbie's Story" by Freddie Owens Wegela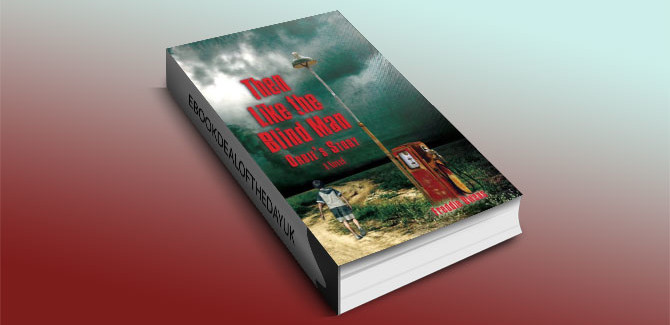 Ebook Deal of the Day: Free! "THEN LIKE THE BLIND MAN: Orbie's Story" by Freddie Owens Wegela
Genre: Suspense Drama / Literary
A storm is brewing in the all-but-forgotten backcountry of Kentucky. And, for young Orbie Ray, the swirling heavens may just have the power to tear open his family's darkest secrets. Then Like The Blind Man: Orbie's Story is the enthralling debut novel by Freddie Owens, which tells the story of a spirited wunderkind in the segregated South of the 1950s and the forces he must overcome to restore order in his world. Rich in authentic vernacular and evocative of a time and place long past, this absorbing work of magical realism offered up with a Southern twist will engage readers who relish the Southern literary canon, or any tale well told.
Nine-year-old Orbie already has his cross to bear. After the sudden death of his father, his mother Ruby has off and married his father's coworker and friend Victor, a slick-talking man with a snake tattoo. Since the marriage, Orbie, his sister Missy, and his mother haven't had a peaceful moment with the heavy-drinking, fitful new man of the house. Orbie hates his stepfather more than he can stand; this fact lands him at his grandparents' place in Harlan's Crossroads, Kentucky, when Victor decides to move the family to Florida without including him. In his new surroundings, Orbie finds little to distract him from Granpaw's ornery ways and constant teasing jokes about snakes.
As Orbie grudgingly adjusts to life with his doting Granny and carping Granpaw, who are a bit too keen on their black neighbors for Orbie's taste, not to mention their Pentecostal congregation of snake handlers, he finds his world views changing, particularly when it comes to matters of race, religion, and the true cause of his father's death. He befriends a boy named Willis, who shares his love of art, but not his skin color. And, when Orbie crosses paths with the black Choctaw preacher, Moses Mashbone, he learns of a power that could expose and defeat his enemies, but can't be used for revenge. When a storm of unusual magnitude descends, he happens upon the solution to a paradox that is both magical and ordinary. The question is, will it be enough?
Equal parts Hamlet and Huckleberry Finn, it's a tale that's both rich in meaning, timely in its social relevance, and rollicking with boyhood adventure. The novel mines crucial contemporary issues, as well as the universality of the human experience while also casting a beguiling light on boyhood dreams and fears. It's a well-spun, nuanced work of fiction that is certain to resonate with lovers of literary fiction, particularly in the grand Southern tradition of storytelling.