No Comments
Finding You: A gorgeous beach read full of laughter and love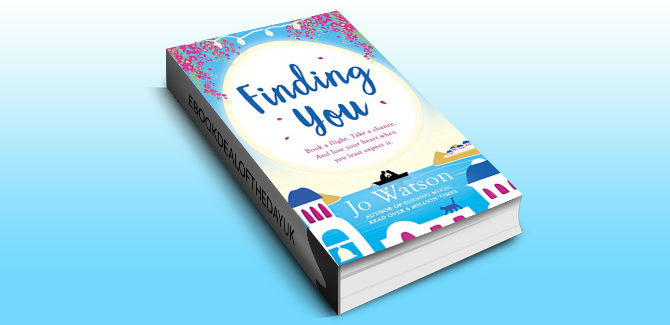 Realtime Price: £0.99

Finding You: A gorgeous beach read full of laughter and love (Destination Love) by Jo Watson

Ready for a rollercoaster of a rom-com on the beaches of Santorini? Perfect for fans of Lucy Vine's HOT MESS, Holly Martin's SUMMER AT BUTTERCUP BEACH and Colleen Coleman's DON'T STOP ME NOW.
When you go to Greece to meet your family but end up snogging your smokin' hot tour guide #sorrynotsorry

Jane is fed up of being the odd one out in her adoptive family. So in a very un-Jane-like move she books a last-minute ticket to find her birth father – and the real Jane. Armed with the knowledge that he was a tour guide called Dimitri, and multiple boxes of condoms from her mother (#cringe), she sets off.
It turns out that everyone in Greece is called Dimitri, including her very own sexy tour guide, who strikes her a deal. He'll help if she goes on an adventure with him. The old Jane would have never have risked a holiday romance, but the new Jane has other ideas. As the search for her father commences, she might just find something else entirely…
For more laugh-out-loud, swoon-worthy hijinks, don't miss Jo's other rom-coms, BURNING MOON and ALMOST A BRIDE.

Genre: Chic-lit, Romance, Romantic Comedy


Amazon UK