No Comments
£0.99 "A Touch of Menage: A Ménage Romance Box Set Series" by Jan Springer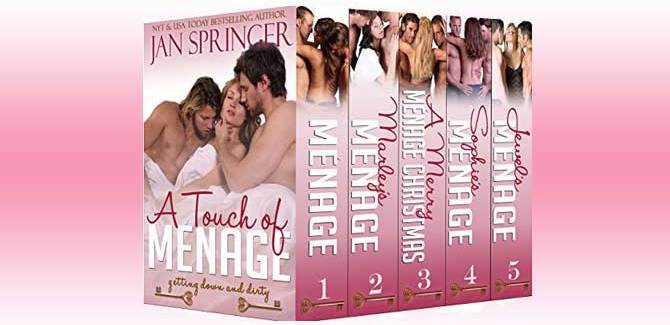 Ebook Deal of the Day:

£0.99 "A Touch of Menage: A Ménage Romance Box Set Series – Ultimate Six-Book Collection" by Jan Springer
Genre: Erotic, Romance

*****SIX Erotic Romance Ménage Stories! INCLUDES A BONUS MENAGE EBOOK*****
Step into The Key Club's Ménage Nights where naughty fantasies come true and two men are hotter than one. Includes FIVE bestselling The Key Club stories; Ménage, Marley's Ménage, A Merry Ménage Christmas, Sophie's Ménage and Jewel's Ménage.
BONUS Ménage BOOK "Cowboys for Christmas" book 1 of Jan's new Cowboys Online series. Jennifer Jane is getting THREE Cowboys for Christmas ~ What more could a girl want?
Jennifer Jane Watson has spent the past ten Christmases in a maximum security prison. The last thing she expects is to get early parole along with a job on a secluded Canadian cattle ranch serving Christmas holiday dinners to three of the sexiest cowboys she's ever met!
Please note: These stories have been previously published.