No Comments
3 Free Paranormal Kindle Books this Thursday!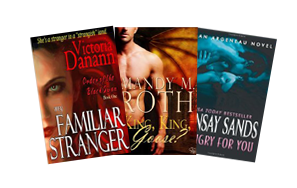 "My Familiar Stranger" by  Victoria Danann
Minutes ahead of inevitable assassination, Elora Laiken is forcibly transported to an alternate dimension similar, but not identical, to her own. She is stranded. Alone. Far from home. A stranger in a "strangish" land.
Of course a girl could suffer worse problems than having gorgeous suitors. Perhaps more importantly, in the midst of an epidemic of vampire related abductions, can she stay alive long enough to choose between an honor debt, true love, or the breathlessness of single-minded passion?
My Familiar Stranger is a full length, stand alone, Paranormal/Fantasy Romance novel that also sets up the foundation for the Black Swan series. It is loved by fans of paranormal romance, fantasy romance, and urban fantasy.
Erotica quotient: 18+. Some steamy scenes. No menage. No BDSM.
"King, King, Goose?" by Mandy M. Roth
As dragon shifter and king of his people–the purple dragons of the east– King Najarni wants to make his lovely wife happy. Her Earthly customs and holidays are strange to him so he sends men forth to her realm to learn of these bizarre rituals. When his wife, Queen Tara, sees what her husband and his faithful guards have done, she can't help but laugh.
Peek in and catch a glimpse into what Najarni has done for his beloved wife.

 "Hungry for You (Argeneau Novels)" by Lynsay Sands
To his surprise the somewhat world-weary Cale Argeneau has found a possible life mate in the form of restaurant owner Alex Willan. But that wasn't nearly as surprising as the realisation that the only way he was going to get anywhere near her was if he claimed to be a world class chef. As well as a crash course in cooking, he'll have to find out who is behind the calamities plaguing Alex's new restaurant. He'd do that and more to be near the woman who has reawakened his appetites.
'Sands writes books that keep readers coming back for more . . . clever, steamy, with a deliciously wicked sense of humour that readers will gobble up' Katie MacAlister