No Comments
3 Free Epic Fantasy this Friday!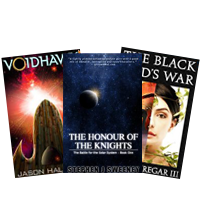 "The Honour of the Knights" by Stephen Sweeney
When starfighter pilot Simon Dodds is enrolled in a top secret military project, he and his wingmates begin to suspect that there is a lot more to the theft of a legendary battleship and an Imperial nation's civil war than either the Confederation Stellar Navy or the government are willing to let on.
Within weeks of being reassigned to the Confederate border system of Temper, the five would begin to untangle a web of lies and a cover-up that seemed to span the length of the entire galaxy. And it would not be long before they themselves would come face to face with that which destroyed an empire: an unforgiving, unstoppable, and totally unrelenting foe.
There seemed to exist only one glimmer of hope of driving back the darkness: The ATAF Project – a secretly developed set of starfighters that may well just harbour some terrible secrets of their own.
"Voidhawk" by Jason Halstead
Book 1 in the Voidhawk series
Too young and naïve to care about the tensions between nations, Dexter Silverhawk considered himself the luckiest man alive when he found a derelict voidship hidden amongst a forbidden field of asteroids. Lady luck proves a fickle maiden when he goes from luckiest man alive to dishonorably discharged.
Escaping prison is only the first step in making his own luck. Finding a crew of castoffs and bringing them together to face the dangers and opportunities of the void between worlds tests Dexter beyond anything he's ever imagined.
Don't forget these other Voidhawk books:
Book 2: Voidhawk – The Elder Race
Book 3: Voidhawk – Redemption
Book 4: Voidhawk – The White Lady
Book 5: Voidhawk – Lost Soul
"The Black God's War" by Moses Siregar III
Against the backdrop of epic warfare and the powers of ten mysterious gods, Lucia struggles to understand The Black One.
Her father-king wants war.
Her messianic brother wants peace.
The black god wants his due.
She suffers all the consequences.
King Vieri's war against the lands of Pawelon rages into its tenth year, and with the kingdom's holy savior, his son Caio, en route to the fighting in the storied canyon, victory ought to come soon. Feeling abandoned by his god, King Vieri forces young Caio to lead his army to victory.
The Black One, Lord Danato, tortures Lucia with nightly visions promising another ten years of bloodshed. She can no longer tell the difference between the waking world and Danato's nightmares. Lucia knows the black god too well; he entered her bed and dreams when she was ten.
As the epic battles rage, Lucia struggles to understand the messages of The Black One, while Caio wrestles with his conscience: Can someone who only wants to heal the world bring himself to kill another man?