No Comments
£1.49 "The Guardian of Genghis Khan's Tomb" by Michael B. Hickland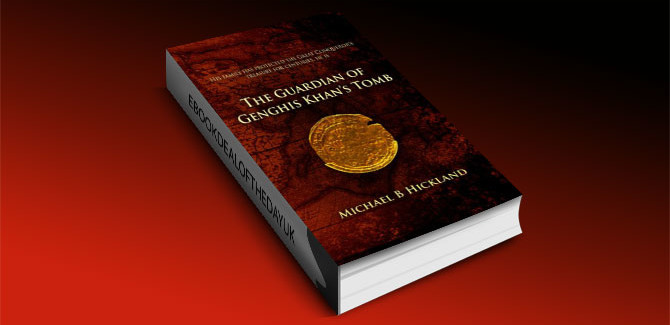 Ebook Deal of the Day: £1.49 "The Guardian of Genghis Khan's Tomb" by Michael B. Hickland
Genre: Adventure, Thriller
Since 1227, finding the Tomb of Genghis Khan has been the obsession of tyrants, adventurers and treasure hunters.
All have failed to find it.
It is a Genghis Khan fact that, looking at a map today, he had conquered a geographic area which would include 30 countries and 3+ billion people.
The legend says that, in order to keep his tomb's location secret, Genghis Khan slaughtered hundreds if not thousands of his captives after they had been forced to dig his burial site. He had amassed untold wealth with enormous quantities of jewels, gold and silver from his conquests that are believed to be buried with him.
So why hasn't his crypt been found in almost eight hundred years?
In The Guardian of Genghis Khan's Tomb, the Great Conqueror extracts a sacred oath from a special advisor. It binds both this trusted counselor and his family forever to protect the tomb and the most immense treasure ever known.
Now, in a remote Asian river valley, a beautiful English scientist's chance discovery of an ancient artifact tied directly to Genghis Khan ignites a furious race among China, Russia and the United States to find that crypt. The stakes are huge, putting the young woman along with her American sponsor at the center of the confrontation.
Can The Guardian of Genghis Khan's Tomb manage to keep the gravesite safe and his beloved country, a fledgling democracy, from being overrun? Or will war break out between the world's Superpowers? Michael B. Hickland's e-novel is a fast paced historical fiction thriller full of turns and twists.
It ends with a conclusion that would stun even the Great Conqueror himself.
Check out "The Guardian of Genghis Khan's Tomb" Video Book Trailer!