No Comments
Dysphoria and Grace: An Urban Post-Apocalyptic Thriller (The Night Blind Saga Book 1) by Christina Rozelle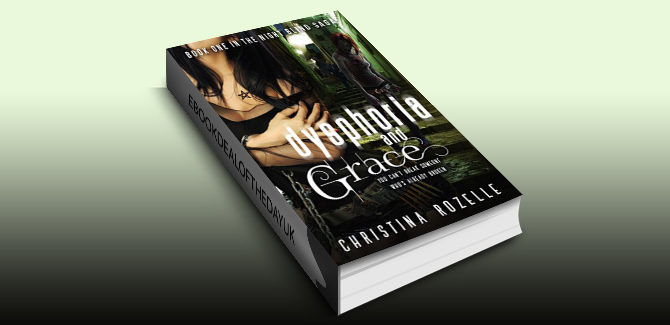 Realtime Price: £2.20

**This book/series has steamy scenes and dark subject matter, and may not be suitable for everyone. Recommended for readers 18+. Please read full disclosure below.**


"How?" She swipes at a few stray tears. "How do you . . . not let it break you?"
"You look it straight in the black, evil eyes and tell it you won't be broken so easily. And you get up and keep moving. It's what I've done my whole life, with everything. Whatever it is, you let it make you stronger, okay? Because the alternative road is an even darker one, I promise."
Twenty-year-old orphan, Grace Vincent, is damaged beyond repair. She's had a rough life, and with the state of the world, things aren't getting any better. With crime on the constant rise, and all licensed civilians age sixteen and up armed, it's no wonder she has a pet name for her 9 mm, Suki.
While attending the slummiest community college in Selam, Texas, Grace still lives at home with her adoptive parents and their "miracle" baby, but only for a few more months until she graduates and they buy her a new car. She smokes and drinks a little too much, loses herself in music, and to keep things interesting, she's falling hard for her best friend.
But when the government imposes Martial Law, requiring civilians ages twenty-one and up to be vaccinated in an effort to eradicate violence, and things don't go as planned, Grace is left to navigate a frenzied world while wrangling difficult realizations and regrets. With nothing else to lose, a decision must be made—fight and live, or surrender and die.
When Grace has lost all hope, two chance encounters prove there are secrets in Selam, lies about how the end happened, and hope for her yet, despite the insanity in her screwed-up mind. The world may have ended, but Grace's new life has just begun.
"You can't break someone who's already broken. This, I know to be true."

Genre: Post-Apocalypse, Thriller


Amazon UK