One Comment
The Music of Love: Fate's Design: Regency Romance (The Amelia Atherton Sweet and Wholesome Regency Romance Series Book 1) by Isabella Thorne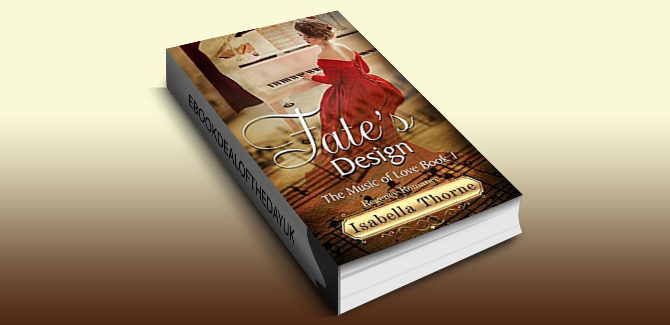 Realtime Price: £0.99

What happens when the Queen of the Season loses her crown?
Lady Amelia Atherton is not a woman to be trifled with. Known as the diamond of the Ton, she is beautiful, witty, the only daughter of the Duke of Ely and everything that a well-bred girl should be. The men of the Peerage see her as a prize to be won and perhaps a way to obtain her father's influence. Amelia was always careful to guard her feelings. That is until she met Commander Samuel Beresford, the brash, sometimes rude, younger son, of the Earl of Blackburn. Still the jewel of the Season could never consider marrying a second son. A Naval Commander at that!
But now everything Lady Amelia once took for granted is about to change. The glittering world she knew has been shattered, and the only person who might be able to help her is Commander Beresford.
A tragic accident, a secret cipher, a clandestine engagement and strange twist of Fate draw the unlikely pair together. Amelia will show him a woman is more than a bauble for a man to possess. But perhaps Samuel will do what none of the peerage could manage and find Amelia's heart. Neither could imagine falling in love now it seems they cannot imagine it with anyone else.
The Music of Love: Fate's Design is a Regency Romance set in 1811-1820 and is marked by witty banter, balls, and country house parties, much like Jane Austen's famous Pride and Prejudice.
It is the first of the four part The Amelia Atherton Regency Romance Series. This serial novella can be read alone, but is best enjoyed as book one in the proper sequence.
Genre: Historical Romance, Regency Romance


Amazon UK