No Comments
Free Three Historical Romance Ebooks!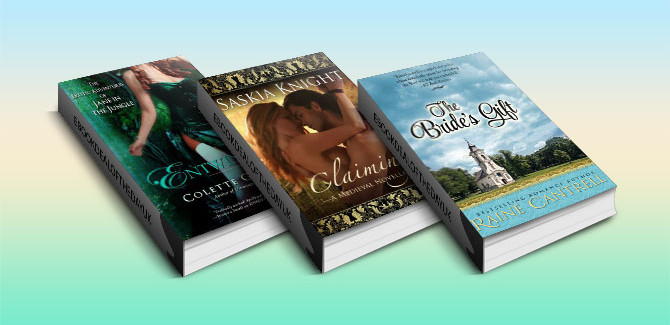 Free!"Entwined: Jane in the Jungle (The Erotic Adventures of Jane in the Jungle Book 1)" by Colette Gale
Genre: Historical Romance, Erotica
The first in a serialized collection of the sexy adventures of Jane in the jungle. Inspired by the stories of Tarzan and Jane, this serial is a creative, edgy, and yet romantically erotic Tarzan and Jane collection.
Darker and more intense than Fifty Shades of Grey, Entwined–and the subsequent volumes–are not for the faint of heart.
~~~
When not-as-proper-as-one-would-think Victorian woman Jane Clemons convinces her father to take her on an expedition in the jungle, her only goal is to find her lover Jonathan, who disappeared three years earlier. She and her father, along with Jonathan's trusted friend Kellan Darkdale, set off on their journey.
But shortly after their party arrives on the coast of Madagascar, Jane finds herself enthralled not only by the freedom and beauty of the lush jungle, but a reclusive wild man who seems to be fascinated by her.
Free! "Claiming-A Medieval Romance (The Gresham Chronicles)" by Saskia Knight
Genre: Medieval Romance
BOOK ONE: The Gresham Chronicles
After her father's death, Lady Rowena Gresham wants nothing more than to be left alone to run her estates and live a life free from the destructive passion that had ruined her mother's life. But the year is 1207 and her father bequeaths the estates to a distant relative.
Sir Saher de Bohun fought alongside her father for the King and has been rewarded with the wealthy Gresham estates, and the feisty Lady Rowena. But he will not take her by force and is determined to woo her into his bed.
But will Saher's courtship be enough to allay her fears, enough to stop her from putting into action a plan, the discovery of which would incur both his displeasure and the King's wrath?
Passion, hot enough to melt the heart of the iciest maiden, contained within.
Free! "The Bride's Gift" by Raine Cantrell
Genre: Historical Romance
Nicholas Dowling's mail-order bride is not what he'd hoped for—she's too young, too delicate, and far too superstitious for a pragmatic man like himself. But not even Brianna's untamable spirit can't cast a shadow over her luminous beauty, and before long the blaze of their attraction grows into something neither one of them was expecting.