No Comments
£2.49 "Six-Alarm Sexy, Volume One" by Kristine Cayne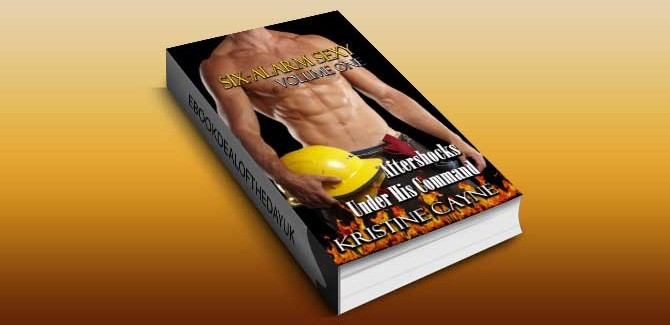 Ebook Deal of the Day:

£2.49 "Six-Alarm Sexy, Volume One" by Kristine Cayne
Genre: Erotic Romance, Contemporary Romance
SIX-ALARM SEXY, Volume One
For the first time ever, enjoy the prequel and first book of Kristine Cayne's award-winning firefighter erotic romance series in one convenient volume.
AFTERSHOCKS
When Seattle is struck by a devastating earthquake, technical rescue firefighter Jamie Caldwell must save his estranged wife and daughter from the wreckage of a collapsed building. He's defied the odds hundreds of times, but will his luck finally run out for good?
Aftershocks is the catastrophic incident that sends reverberations throughout Seattle Fire Department's Station 44 team of rescue firefighters long after the earthquake is over. The Six-Alarm Sexy series follows these brave men and women into their personal lives as they re-evaluate what's important to them. Some will delve deeper into existing relationships, while others will take on new and unexpected partners.
UNDER HIS COMMAND
A firefighter desperate to save his failing marriage earns the trust–and the sexual submission–of his controlling wife in the most pleasurable of ways.
After an explosive one-night stand results in pregnancy, Jamie Caldwell is thrilled to marry the perfect foil to his Dom side. But when his submissive wife starts cringing every time he gives a command, Jamie shackles his dark desires. A bout of rough, frenzied reunion sex makes him wonder if now he should free the Dom he's kept in chains and teach Erica the joys of submission and sexual surrender.
Erica Caldwell secretly loved every sinful thing Jamie did to her on their first night together. However, terrified she'll become a codependent doormat like her mother, she repeatedly rejects Jamie's dominance, despite craving the kind of release only he can give her–the release that comes from yielding to Jamie's every demand.
Hoping that the trust required by BDSM will help them rebuild their faith in each other, Jamie and Erica embark on a journey of sexual exploration. But is it too late to repair their crumbling marriage?