No Comments
£0.77/$0.99 "Scandalous Brides…" by Lucinda Brant, Annette Blair, Cheryl Bolen, & Brenda Hiatt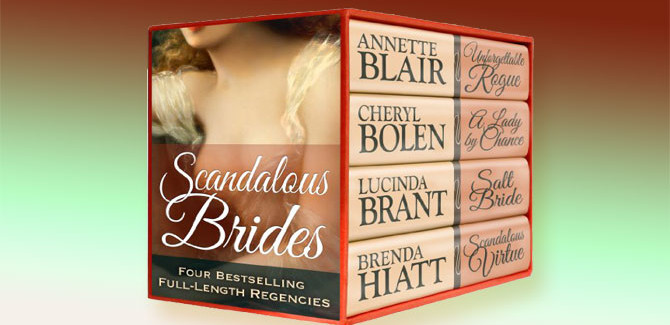 Ebook Deal of the Day:

£0.77/$0.99 "Scandalous Brides (Four Bestselling Full-Length Regency Novels)" by Lucinda Brant, Annette Blair, Cheryl Bolen, & Brenda Hiatt
Genre: Regency Romance, Historical Romance
Normally $9.99, this boxed set of four full-length Regencies is available at the special pre-order price of only 99c at Amazon.com.
New York Times and USA Today Bestselling Annette Blair with Cheryl Bolen, Lucinda Brant, and Brenda Hiatt present the best of their best!
Fall in love with bewitchingly scandalous brides and their dashing grooms in this box set of 4 full-length Regencies. These bestselling romances from award winning authors have more than 250 Amazon US reviews with a combined average of over 4.3 stars!
UNFORGETTABLE ROGUE by Annette Blair. Beauty and the Beast trade places. After being reported dead, handsome as sin Bryceson Wakefield, Duke of Hawksworth, returns home scarred and beaten by war, only to find his hoyden of a wife blossomed into a beauty and set to wed another. Can Beauty seduce her unforgettable Beast? Will the beast ever consider himself worthy?
A LADY BY CHANCE by Cheryl Bolen. Manipulated into a marriage of convenience, Anna and Charles, the Marquess of Haverstock, question each other's loyalties. But there's no question that Anna's silken touch has bewitched the powerful lord who has become her husband, and no question that she craves every moment in his arms.
SALT BRIDE by Lucinda Brant. The Earl of Salt Hendon and squire's daughter Jane Despard share a secret past of mistrust, heartache, and misery. Forced into a marriage neither wants, Jane believes love conquers all; Salt will take some convincing. Can the newlyweds overcome past prejudices and sinister opposition to fall in love all over again?
SCANDALOUS VIRTUE by Brenda Hiatt. First impressions can be most deceiving! Nessa, Lady Haughton, has been trained all her life to be a model of English propriety and virtue. Notorious rakehell and war hero Jack Ashecroft must renounce his wild ways and establish himself as a respectable member of Society. When Jack and Nessa meet, each thinks the other is exactly the ticket to the changes they are seeking; then the sparks fly!